A Big Uphill Thank You to All Our Donors!
It's been back to business at Uphill Junior School in 2022, much to the relief of all of us, both in Uganda and at the Trust's HQ in Scotland. The school roll rapidly climbed to over 300 children and, when we visited in February, it was clear that the staff and pupils were delighted to be back into the normal rhythm of school life.
It's not such good news in the wider community though, which is struggling with the perfect storm of the after effects of Covid19 lockdown, the war in Ukraine and unpredictable weather conditions – all of which have led to a huge increases in prices of food, fuel and imported items. Sound familiar?
In that context we would like to share some words from school director Elius:
"To our beloved sponsors, donors, fundraisers and well wishers – thank you so much for standing with us from day one till the last day of our academic year 2022. You have stood with us in both dark and light moments – we owe you our appreciations and gratitude!
On behalf of all people of Iruhuura, our school and my own behalf, I thank you from the deepest of my heart. Thank you for building the foundation of the future Uganda!"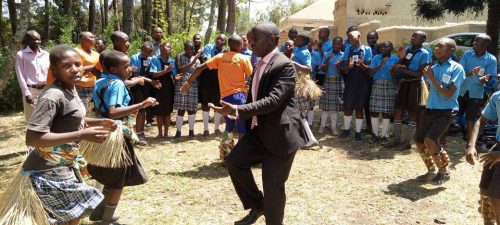 All Ugandan educational institutions closed a few weeks early at the end of this academic year, as a protective measure against an outbreak of Ebola virus, which appears to be under control now… phew!
UPDATE ON THE PUPIL SUPPORT FUND
Sixteen of our regular donors, including 2 primary schools, have supported 28 children at Uphill Junior School this year (15 girls and 13 boys).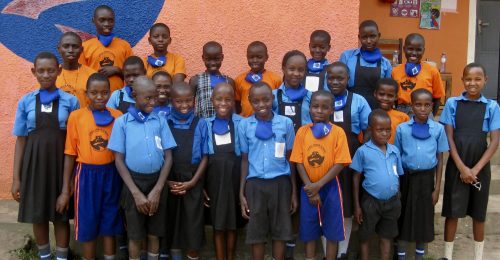 In addition to that individually focussed financial support, there is also a general Pupil Support Fund (PSF) which helps any child in the school who has an acute financial or medical need. The general PSF also funds extra curricular activities which benefit a large number of pupils. This year it was used to buy materials for a holiday skills programme run by two Spanish volunteers. The items made by the pupils were sold within the community, and back in Scotland, with the resulting income going back to the school.
Over the 22 month Covid 19 lockdown, continuing regular donations to the PSF were used to buy food supplies for the families of supported children. Despite this, a large balance remained unused and, in October, we took the decision to transfer £4,500 (2/3 of the unspent lockdown PSF funds) to  the new Uphill Porridge Club. The porridge club feeds all the children in the school, including the supported pupils, and we felt that this was an equitable way to use funds specifically donated to support Uphill children.
UPDATE ON THE UPHILL PORRIDGE CLUB
It was clear when we visited the school in February that many of the children were coming to school hungry and had no food to bring with them for their lunch. Hungry children cannot concentrate and learn effectively, so we needed to come up with a solution.
Feeding all the children a meal in school has been on our wish list for several years, but it has always been a challenge to fund. We sat down with the school director to work out a way forward and agreed that providing a daily meal of maize porridge for every child would be a good start. Mary's Meals are the best known charity to do this, and there are other international development charities that include a porridge club as part of their school support programmes..
We launched an appeal in March and soon raised enough money to start the project in the second term of the year. Food price inflation has already doubled the price of feeding a child in school from £5 per child per year in March to £10 per child per year in September, and we will have to raise raising the price again to £15 per child per year in January 2023. 
We expect the Uphill Porridge Club to be cost £4,650 to run in 2023, £2,020 of which will be  covered by continuing regular donations. Other targeted fundraising activities, along with the repurposed lockdown funds from the PSF, have generated a balance of £8,091 at the end of 2022. We are delighted to know that the porridge club funding is in hand for the next few years.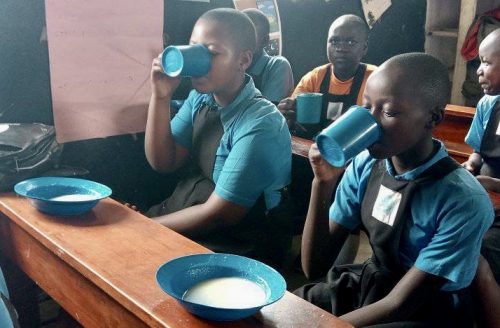 The impact of the Uphill Porridge Club is hard to overstate. This is a letter of thanks we received from a pupil in Primary 7:
"It is a pleasure to write to you. Let me hope you are fine. For me, I am okay since I take porridge for free every day. I have been with ulcers but porridge has been a medicine to it. Let me hope you will receive my appreciation. May God bless you."
Elius also tells us that the children were very excited to learn about the porridge club:
"It's like Christmas"  they said, "but even better as it happens every day!"
UPDATE ON THE TEACHER SALARY FUND
Uphill Junior School receives no financial help from the Ugandan Government, and the meagre school fees do not generate enough income to pay the teaching staff. The Uphill Trust has been helping with teacher salaries since we became involved with the school.
In 2022 the annual salary bill for 14 members of staff was £10,023. The school contributed an additional £1,270 from fee income to fund an extra teacher and top up staff salaries when cost of living increases started to bite.
Salaries are covered by regular donations to the Trust. Thirteen donors support the Teacher Appeal directly and we use funds from 17 other regular donors to meet the salary bill each month. Thank you to everyone who has helped in this way.  Next year the salary will be increasing to £13,772, with cost of living increases and a new staff member to teach Kiswahili – we will be fundraising again to meet these increased costs….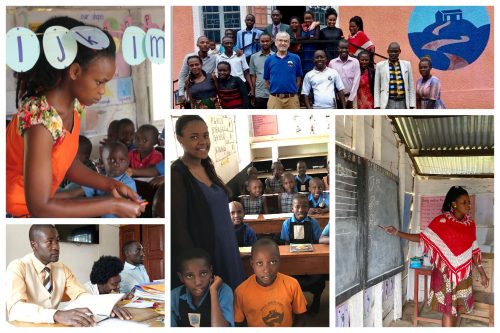 Uphill Junior School has an excellent reputation and is considered by the Ministry of Education Inspectors to be a 'model rural school' due to its good academic results, happy and hard working staff and extra curricular opportunities for pupils. Regular and timely payment of salaries is one of the cornerstones of the school's success.
UPDATE ON THE SCHOOL BUILD FUND
Buying land and building a permanent primary school with kindergarten has always been a key priority for our charity. The need to add a safe, hygienic school kitchen to the school site became clear at the start of 2020 and we launched the Uphill Kitchen Appeal in December that year. Just a kitchen, we thought…
As with so many of our projects, this one grew arms and legs and became a kitchen-with-dining room, and then a kitchen-with-large multipurpose hall! The budget grew from £5,000 to well over £30,000 but the good news is that building began this year!
The foundations were laid in April and then there was a hiatus whilst we waited for technical drawings from the Ugandan planners for the superstructure. Work on the superstructure finally began in November, and has continued apace – despite some very wet days!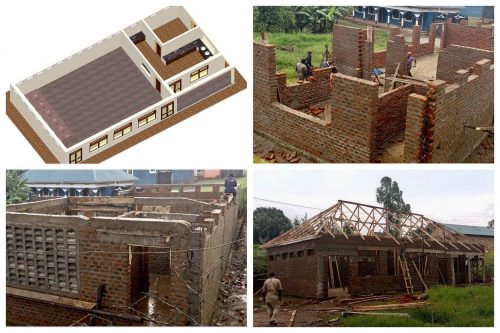 Meanwhile, another team of builders are hard at work renovating an 8 room house that was offered to us for a good price, along with a large plot of land, for conversion into staff accommodation.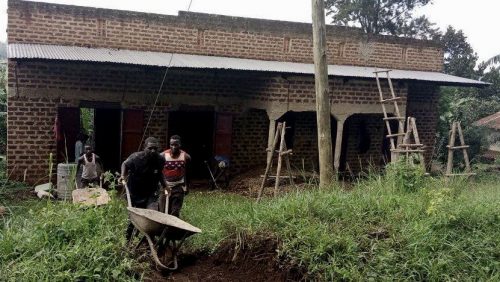 As we move forward, our main priority is to help the school on the path towards financial sustainability. Currently the school has to pay rent to local landlords to house all its staff – one of the requirements for rural schools in Uganda. The development of a dedicated staff compound will provide a better living environment for the Uphill teachers in term time and, in time, will save on rental payments. After that we will be concentrating on income generating projects…
We can't do what we do without your help – thank you from everyone in the Uphill community!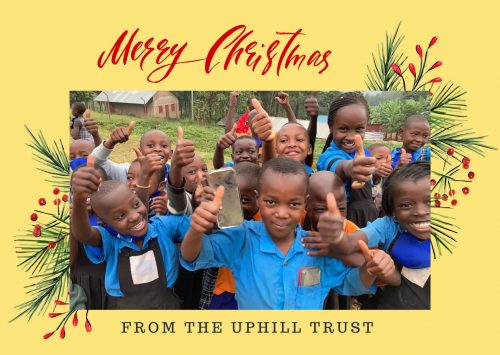 Tags: pupil support fund impact, thanking supporters, The Uphill Trust, Uphill Junior School