Who would you choose?
International development charities have different ways of dealing with construction projects, especially in rural areas. Some like to use overseas volunteers to build schools, clinics and other capital projects; others use local tradesmen.
The Uphill Trust is firmly in the second category.
We celebrate our local build team – all of whom are skilled workers and many of whom have children at the school we support. To date they have built three classroom blocks, four latrine blocks, a hand washing station that inspires awe in all visitors, installed playground equipment and then moved it to a new site, relocated temporary wooden buildings several times, installed numerous water harvesting tanks and dealt with water management issues around the school site. They demonstrate great pride in their work and work hard to get each project completed on schedule. Local tradesmen understand the ground and weather conditions, know how to get the best out of local materials, and are well placed to advise on materials choices that suit the site and the budget available. They are paid a fair wage for their work, and spend their money within the community, so everyone benefits.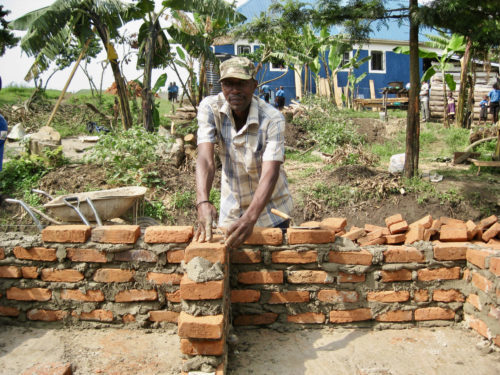 Lead builder Waren,  parent of Uphill children and Chairperson of the Local Community Council in Iruhuura
Having said that, volunteers who want to spend time in the community and who have skills to pass on are always welcome. The local Vocational Institute are always happy to host volunteer trainers, so long as they are able to pass on their skills in a 'back to basics' manner – there is no running water or electricity and the 'workshop' is often an area outside, under a tree! Qualified teachers are always welcome at the school, as are medics at the local health centre. The Ugandans in the rural community where we work are always keen to embrace new ideas – so long as they are not expensive to adopt or require too much specialist equipment. Volunteers who spend time there are guaranteed a life-enhancing experience, but do need to be prepared for the very different way of life for a while (and need to be able to fund their trip!). If you would like to help, or would like to find out more please get in touch.
What is Uphill build team's most recent project?  A fabulous new latrine for the primary school boys!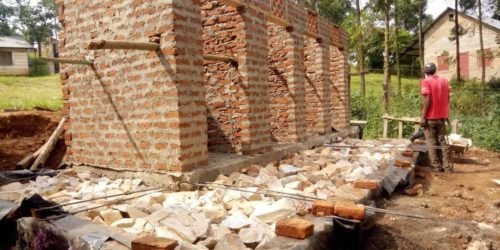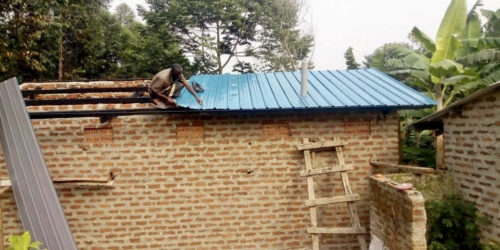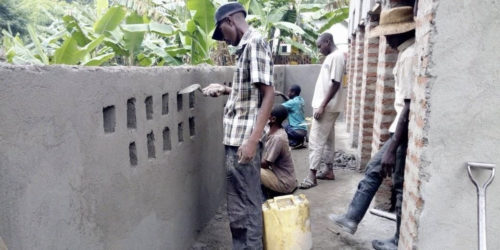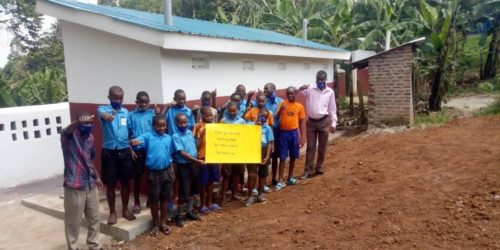 We are very grateful to Meeting Needs for providing the funding for a second latrine with sewage tank for Uphill Junior School.

Meeting Needs' Latrine for primary girls (2019)

Tags: latrine block, The Uphill Trust, uganda, Ugandan primary school, using local builders