In December 2018 we launched the Uphill Farm Appeal, to fund a programme of hands-on agricultural experiences for the pupils (and staff) that would, in time, become a source of additional income for the school. This is an ongoing project that began with vegetable growing around the school grounds in odd corners, raised beds and maize-sack grow-bags in 2019 and has continued in 2020. We are now delighted to announce that the Uphill School Farm Project has taken a new step – Uphill Junior School now has a piggery!
Raising pigs is a popular income-generating venture in rural Uganda and it is common to see free-range piglets foraging in villages and alongside rural roads. Pigs are raised for various reasons – to provide a source of meat for the family to eat or, more commonly, to sell and/or as a source of piglets to sell on to other small-holders. Both the trustees and the school have been researching the options for starting a small piggery or perhaps raising chickens at Uphill for the past two years. It was important to take the time to do this – livestock operations need a lot more planning than growing vegetables!
With a detailed budget prepared for a small scale piggery, it was agreed that the 'quiet' time during COVID 19 lockdown would be a good time to get started. As with all the Uphill projects, once the money had been sent over, the Uphill build team got to work straight away…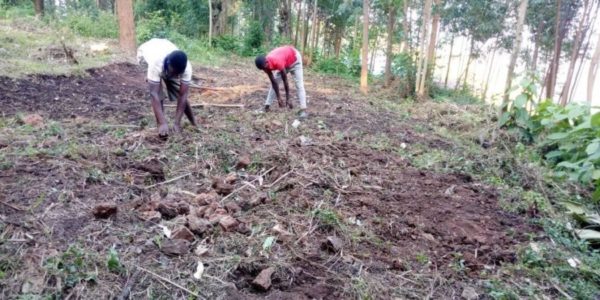 Stage 1 – clearing and levelling the ground (3 July 2020)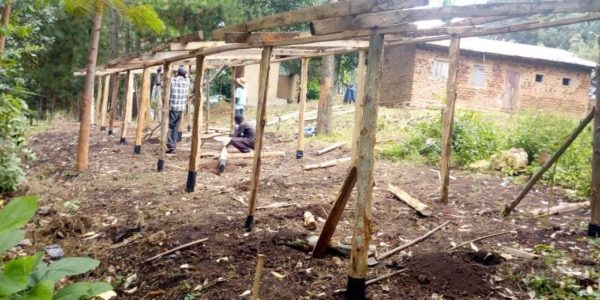 Stage 2 – up goes the wooden framework.
The building in the background is the house where some of the pupils stay in term time.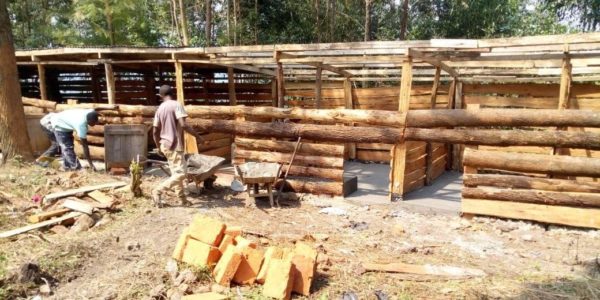 Stage 3 – almost finished! Stalls built, roof on, concrete floors installed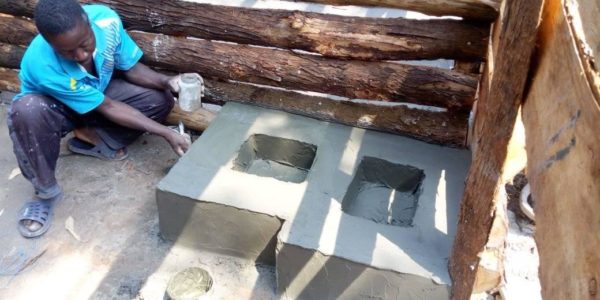 Stage 4 – finishing touches – robust food and water troughs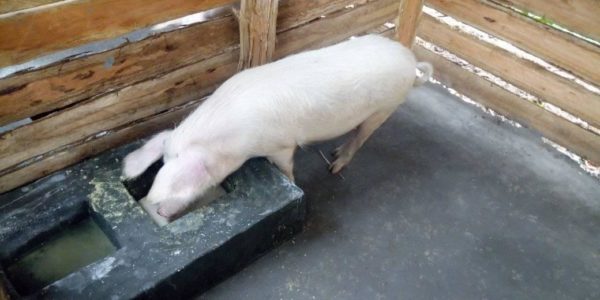 Stage 5 – 3 sows arrive.
Two are already expecting litters and the third will be put to a boar soon (22 July 2020)
The pigs are being fed a combination of commercially produced pig mash and fresh greens. Pigs will eat a wide range of foods – they particularly like sweet potatoes and the leaves of wild yams, and these are being planted around the piggery building. In the meantime, there are always plenty of vegetable peelings from the teachers' meals to supplement the pigs' diet. Pigs need a lot of water, which currently has to be carried up the hill from the school – a water harvesting system is being installed at the piggery next week, along with tool and food stores and somewhere for the pig 'caretaker' to sleep. The manure that is generated  will be put to good use in the vegetable gardens – nothing will be wasted!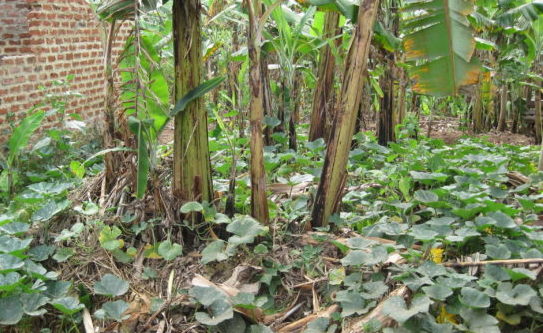 'Pig yams' growing under Matoke trees at one of the small family piggeries we visited in 2019
You can follow The Uphill Trust on facebook, twitter and instagram
Tags: piggery project, The Uphill Trust, uphill farm project, Uphill Junior School, Uphill piggery, Uphill smallholding