Meet the Uphill Marathon Runners 2017!
The Stirling Scottish Marathon, being held for the very first time in May 2017 and pretty much on the doorstep of The Uphill Trust, was too good a fundraising opportunity to miss.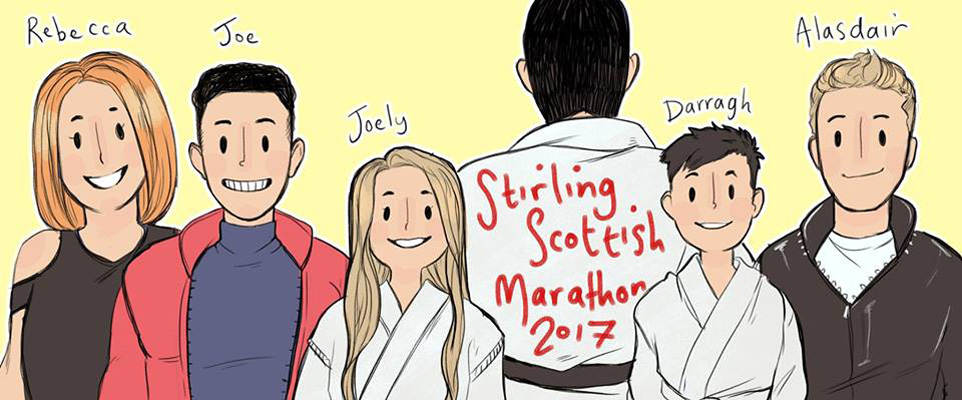 First to sign up was Becca, daughter of one of Liddy's school friends:
She says, " Hi, I'm Becca and once a year (sometimes more) I like to do something a little crazy. My running started with a 10K, then a half marathon, then a full marathon, shortly followed by a 100 mile run over 4 days and a boxing match! At the beginning of my first marathon in York, a man said to me "This won't be your last".  I laughed and at the end disagreed with him completely saying, " Never again, this is my last". That thought didn't last long as the very next day I was signing up to marathon number two.
Running is my escape from a busy life and allows me to spend some time with nature. My preference is for trail running which I can enjoy in the Cotswolds, my local area. Running helps me unwind from my work as a nurse and it also gives me a chance to raise awareness and fundraise for charity. This year I was asked by Liddy if I would like to run the first Stirling Scottish Marathon to support The Uphill Trust. I didn't hesitate with the answer for that so here I am ready to complete marathon number five…"
Next to commit was Alex, the younger brother of Belinda (and fellow karate enthusiast). Never one to shirk a physical challenge, the opportunity to run a tremendous course for an outstanding cause, and in his sister's 'back yard' no less, was not something he was likely to turn down.
"I probably have one more marathon left in my carcass," he says, "running on behalf of The Uphill Trust in the Stirling Scottish Marathon will be an honour and knowing the phenomenal effect this will have for so many youngsters is an extremely powerful motivator.
Alex's decision to become an Uphill Marathon Runner inspired his step children to start running too:
Joely and Darragh will be running alongside Alex in their local event, the Taunton Half Marathon, at the beginning of April and are proving to be plucky full marathon training partners for Alex in the interim.
Joely says, "A little bit of time and effort on my part could make a world of difference to those at Uphill Junior School so I might as well make a challenge of it." Joely is no stranger to fundraising for The Uphill Trust – in her spare time she volunteers at the local community coffee shop and, along with her sister Bethan, has already helped to raise over £500.
To complete the bunch, Alasdair and Joseph signed up to the Uphill Marathon Runners team:
Keen motorcyclist and PhD student Alasdair decided that he too would like to run the Stirling Marathon for The Uphill Trust, after meeting Belinda and Max at a charity motorcycle event. A love of motorcycling is a common thread amongst the Uphill Trustees (remember the 48 Hour Fence Louper event last June?).
Alasdair, a conservationist studying Carbon Management & Emission Modelling at the University of Edinburgh, then spoke to his running partner from undergraduate days…
Joseph is based in Leeds, were he works as an ecological consultant – he says, he is "passionate about all things conservation!". Whilst working as a researcher oversees in Borneo, rural Costa Rica, St. Eustatius (Dutch Caribbean) and Maio, Cape Verde, Joseph has seen first hand the conditions in which children in rural communities live, often in extreme poverty. He believes that education is of the upmost importance as a tool to tackle extreme poverty and he values the work carried out by The Uphill Trust.

UPDATE – TAUNTON HALF-MARATHON SUCCESS!
We are delighted to report that our three runners completed the 13 mile Taunton Half-Marathon at a steady pace on 2 April 2017, without stopping to walk at any point – even on some of the steep inclines  into the Quantock hills! All came in under 2.5 hours, despite having spent the whole of the previous day competing in a regional karate competition some distance from home.
Fantastic job, Uphill Marathon Runners in Somerset!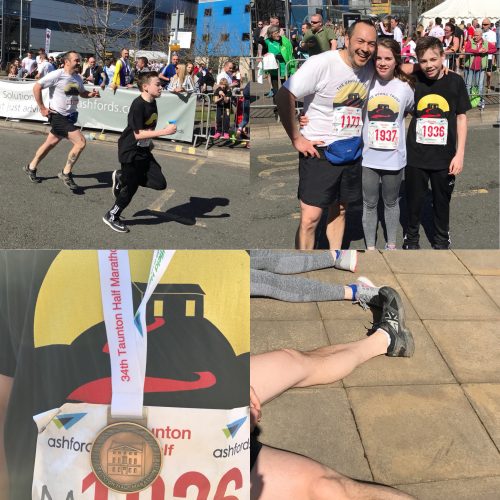 UPDATE – STIRLING SCOTTISH MARATHON SUCCESS!
Well done to our four fabulous Uphill Marathon Runners who took part in the very first Stirling Scottish Marathon on Sunday 21 May 2017. Alasdair and Joe loped round the course like pro's and came in together in under 4 hours – two Personal Best times – BRILLIANT!
Alex and Becca ran together the whole way too, a combination of sheer grit and military routine overcame the re-emergence of an old injury and they made came in at just under 6 hours. HUGE RESPECT!
We are extremely proud of our runners and of the support team who route marched from cheering point to cheering point during the course of the event. Apparently the bananas at the half way mark really hit the spot!
Total marathon fundraising came in at £4,086 – we are well on the way to funding another classroom!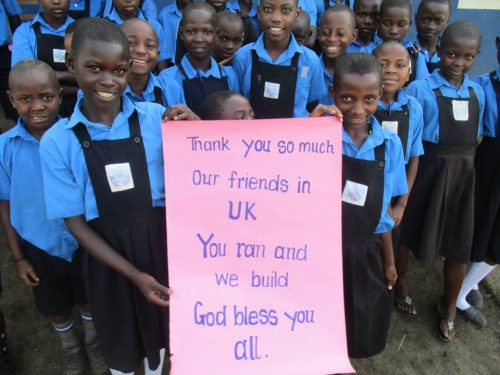 Thank you to everyone who supported our runners – together we are helping to change lives.

Tags: The Uphill Trust, Uphill Junior School, Uphill marathon runners