If you live in Uganda it is very likely you will suffer from malaria at some time in your life. It is as if "getting malaria" is expected – just as "normal" as we consider suffering from a common cold in the UK. However malaria is much more serious – it can be a killer. 
"Malaria kills 800 children under the age of 5 every day in Sub-Saharan Africa." (UNICEF data)
A huge amount of work finding ways to prevent malaria is taking place around the world. New ways to control the Anopheles mosquito, which transmits the malaria parasite with a single bite, are being developed. At the same time possible vaccines, better treatments and global awareness programmes are being worked on. These programmes will take time, resources and money before they can be fully implemented.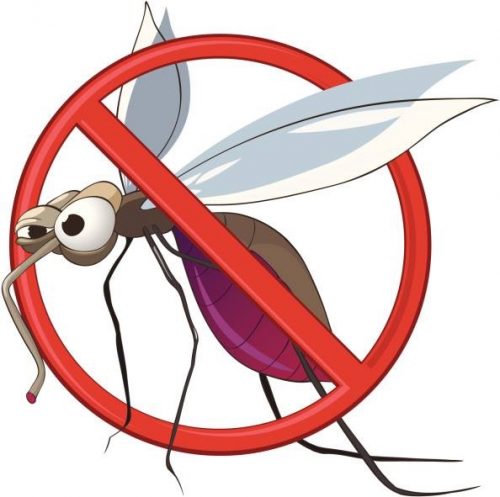 Until that happen, the simplest and cheapest way to protect an individual is for them to sleep under an long lasting insecticide-treated mosquito net (LLIN) (WHO recommendations)
As a result of the increased use of mosquito nets world wide since 2010: 
Mortality rates among children under five have fallen by 34 per cent.
Malaria, and the costs of treatment, trap families in a cycle of illness, suffering and poverty. Today, 3.2 billion (almost half of the world's population) are at risk. (UNICEF 2018, https://data.unicef.org/topic/child-health/malaria)
An American study published by the National Centre for Biotechnology Information (NCBI) in 2018 recommends that: 
'Houses with many residents, poorer households, and school-aged children should be targeted to improve LLIN coverage and use" https://www.ncbi.nlm.nih.gov/pmc/articles/PMC6234693/ 
Malaria remains an urgent public health priority.
In 2016, The Uphill Trust launched a campaign to provide insecticide-treated mosquito nets for each of the 200 children at Uphill Junior School. We had discovered that although there was a national Ugandan programme to distribute nets, it was not reaching all the families in our remote rural area.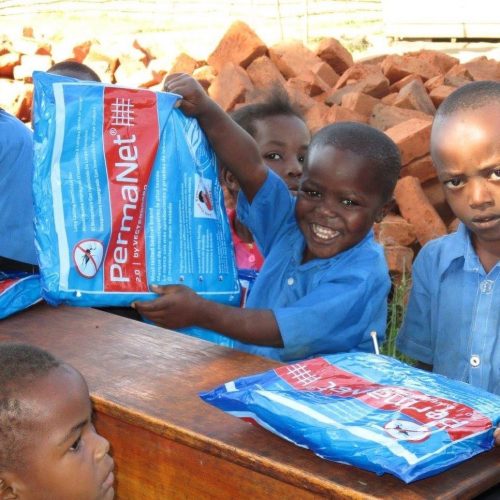 Our campaign was successful and we were able to give a net to each child at the school that year.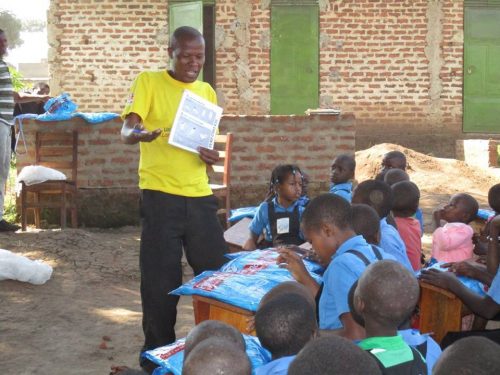 All the pupils received training on malaria prevention from a local expert, an Uphill parent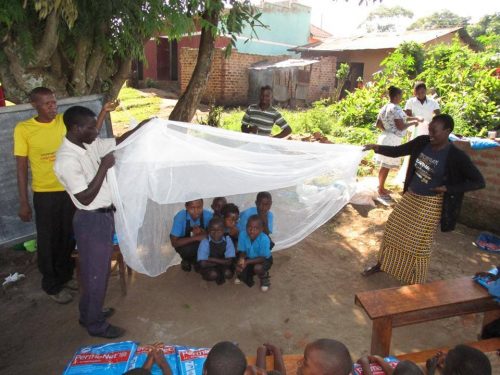 The children were taught how to use and take care of their new nets
 Now, in 2019, we have over 300 children in the school and, as the kids have moved on through school, we have new families who need protection. Any original nets still in use need to be replaced, as the insecticide treatment only lasts for 3 years. Although nets that are still in good condition provide a physical barrier to mosquitoes, they don't give full protection. 
On World Malaria Day 2019 we will be launching a campaign to raise funds to provide a new mosquito net for each child at the school.
"Stop malaria with a fiver"  Yes, £5 is all it costs to buy a Long Lasting Insecticide-Treated Mosquito Net (LLIN)!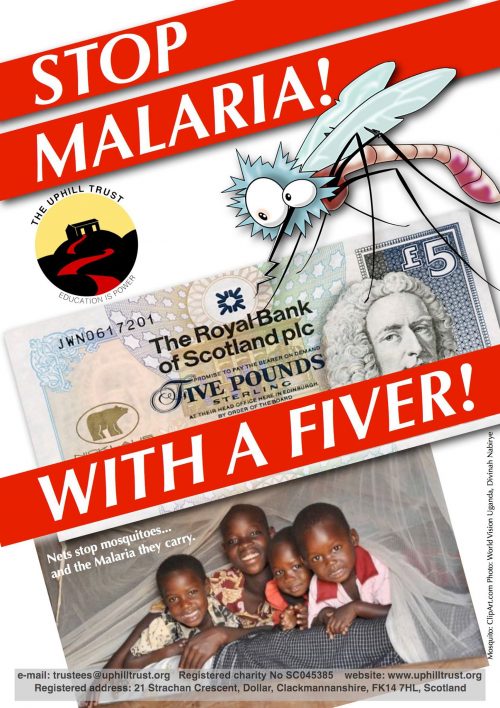 If we can reduce the effects of malaria in our area of Uganda it will contribute in a small way to the global "Malaria Must Die" campaign, and save lives. 
Can you help us protect the Uphill children against this life-threatening disease and give them a healthier life so they are able to attend school regularly and achieve the education they deserve? 
You can donate to this campaign here.
FUNDRAISING UPDATE:
On 30th September 2019 the children of St Peter and Paul's Junior School in St Helens, Merseyside will walking round and round their school playing field boundaries to raise money for the Uphill Trust Mosquito Net Appeal. They will be accompanied by Uphill Ambassador Joan (82) and her friend Jean. If you would like to sponsor Joan and Jean you can do so here: https://www.wonderful.org/fundraiser/walkingtostopmalaria-9a659c56?fbclid=IwAR2xVg4mZgJM2AwI1z-X_Gi2Ia0NMoLMhrJ7dt1KG1-td-FyQh8uf4xUZx0
Follow The Uphill Trust on facebook,  twitter and instagram
Tags: Stop Malaria with a Fiver, The Uphill Trust, Uphill Junior School, World Malaria Day