Event Report by Fundraising Trustee, Liddy
A year after my inaugural Kiltwalk with the fab bunch of Uphill supporters who made up Team Uphillya, I signed up for the Dundee Kiltwalk again. This time I wasn't able to do a huge amount of pre-walk training so I opted for the Wee Wander, 6 miles, starting at the new V&A in Dundee and walking out to the finish at Monifieth.  I was joined by my son, Duncan, and his girlfriend, Kendra, who were prepared to provide the young, long legs to keep Mum going.  Kendra only agreed to walk if she could wear a unicorn onesie, and as there were no rules saying unicorns were not allowed, we became Team Uphill — The Tartan Unicorns. The fact that the unicorn is one of Scotland's national animals also made it completely appropriate.
It also meant that I had to join in the silliness and find my own tartan unicorn fashion. Not difficult!  Duncan just raised his eyebrows to the ladies' ideas and said he would stick to "normal clothes, thank you all the same."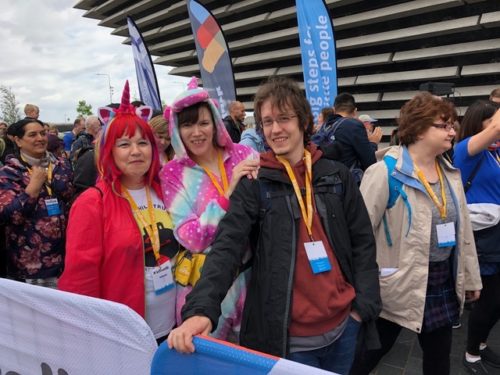 The Unicorns (and Duncan) raring to go…
As many of you will know, in Scotland, the weather can do anything. True to form, Kiltwalk day arrived with clouds, showers and sunny spells. Undaunted, after taking part in the amazing Kiltwalk organisers warm up and send-off, a large crowd of walkers set off at midday from the V&A as the Wee Wander.
We three were asked for photos while we were waiting in the queue, and a number of kids had requested unicorn cuddles from Kendra. Needless to say, she obliged.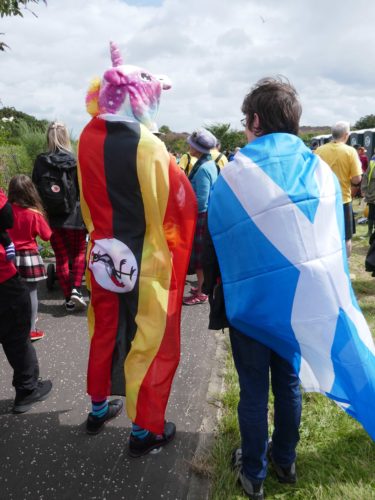 A rare dry, sunny moment – it didn't last!
The first of the showers joined in almost immediately. Kendra was lovely and cosy in her onesie, and my wig kept my ears warm and dry. This one soon passed over.
The first four miles with the highly organised Kiltwalk rest stations and Kilties' support was time for a blether and people watching.
Dark clouds and a strong wind began to pick up and by the time we reached Broughty Castle, two miles to go, the weather had caught us up and began to soak everyone.
Dampness began to seep through all my layers, and Kendra was absorbing quite a weight of water with her fluffy onesie. The flags we were carrying were now rather too damp to flutter in the breeze.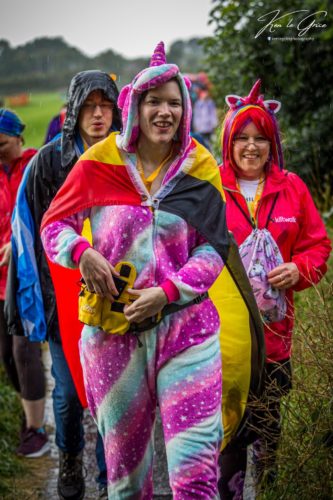 It was SO wet at times!
Rounding the final corner and hearing the music and MC' s voice cheering everyone over the line was extremely welcome. As we crossed the line with a special shout out for The Uphill Trust and the "Ugandan Unicorns", the rain stopped.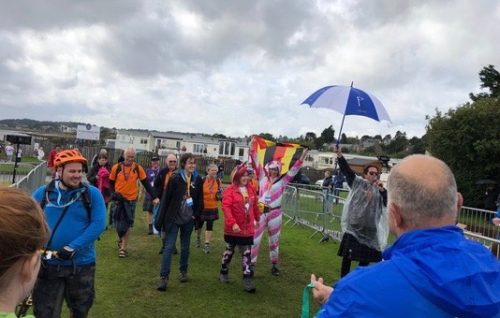 Hurray for the 'Ugandan Unicorns'!
Kiltwalk medals were added to the very soggy attire which by now was thoroughly wet — right through to our skin. THREE VERY SOGGY TARTAN UNICORNS … BUT JOB DONE!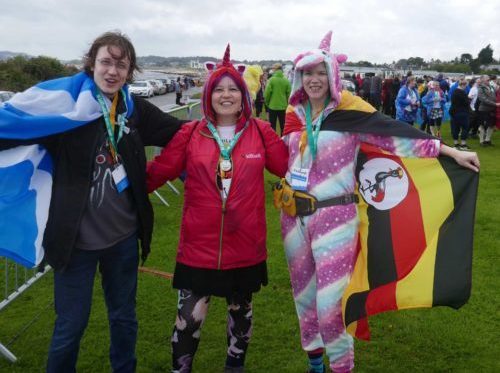 Thank you, Duncan and Kendra for your wonderful company and fundraising.
Our support party of Calum and Max who met us at various stages en-route and at the finish was hugely appreciated.
Wonderful donations for our Kiltwalk came from many, many friends, family, and patients. THANK YOU.
Hopefully at the final count we will have another £1000 to add to the Kindergarten build fund which will get our little kids at Uphill Junior School into proper classrooms and OUT OF THE MUD.
Know exactly how you feel, guys!
This year Uphill supporters took part in two Kiltwalks, which together have have raised over £5,200 for The Uphill Trust School Build Appeal.
Glasgow Kiltwalk 2019 (reported in The Uphill Times-June 2019)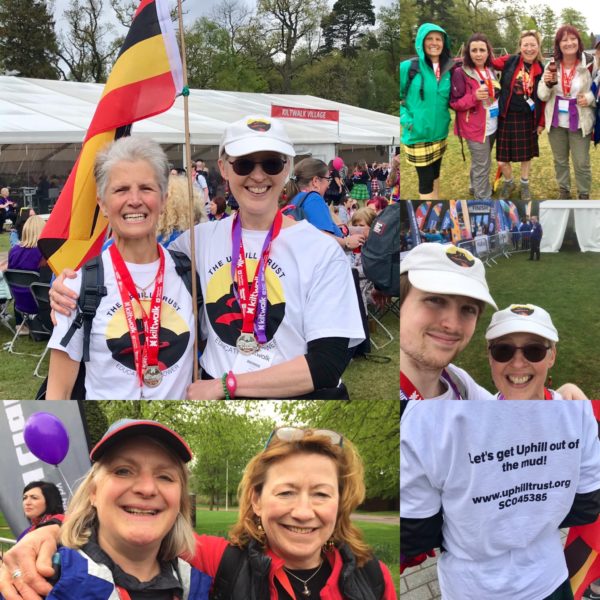 28 April saw the seven members of Team Uphill, along with 13,000 other charity walkers, putting their best foot forward in Glasgow. The team's aim was to raise funds for a new classroom for the youngest members of Uphill School. Kiltwalk is an excellent fundraising event, as the backers, the Hunter Foundation, add an extra 40% to any sponsorship donations. Thanks to some super fundraising from the team members (including two returning Kiltwalkers) we should be receiving around £4,200 from Kiltwalk in a few weeks' time. That will buy a lot of bricks! THANK YOU TEAM UPHILL – you did us proud!

Tags: Dundee Kiltwalk 2019, Glasgow Kiltwalk 2019, The Uphill Trust, Uphill Junior School