Running 5km a day for 30 days straight doesn't sound too bad, especially for two young fit firefighters. Now add 34kg of firefighting kit including breathing apparatus and still run 5km each day in around 30 minutes. That is some challenge.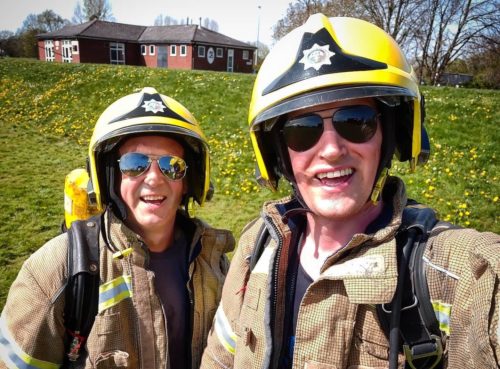 This was the torture devised for themselves by two of Hereford and Worcester's firefighters, Ken Edward and Mark Hannick, as a fundraising challenge to provide firefighting equipment and fire safety training for Uphill Junior School. The school has no firefighting equipment and the nearest fire station is over 35km away.
For those who like stats, this is what the guys took on. 
1 challenge
2 firefighters
3 and half marathons
93 miles
150km
196,860 steps (approx)
All in 34 kg fire kit and breathing apparatus, don't forget. 
They started on April 2nd and after the first couple of runs they began to feel that this was going to be one tough challenge. Possibly there were some second thoughts. The following 30 days, social media showed photos of two very tired guys more than once.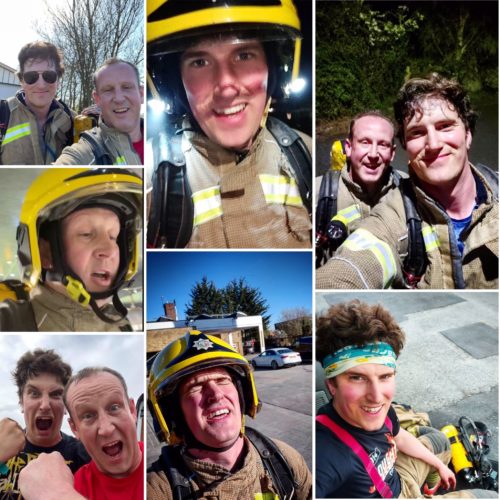 Mark had to fit his daily runs between working in London and Upton-upon-Severn while Ken was doing his running around Upton or on his treadmill. When they could, they ran together around the playing fields and streets in Upton. All squeezed in between operational duties. That meant some night-time runs in the dark, some early morning runs and some runs being interrupted with a shout. There were runs after rugby training and football training, after too many burgers at a BBQ and before a daughter's special 18th birthday celebration. Of course the weather did its bit too:  Hot, cold, snow, rain and wind.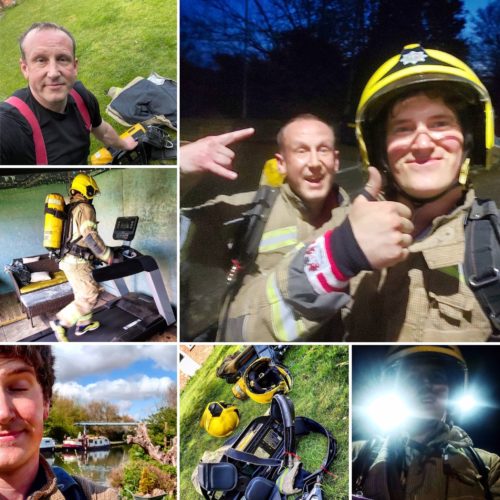 BBC Hereford and Worcester radio station interviewed them both after a week of the challenge and sent a reporter to follow them during one of their runs around the playing fields. I think the reporter preferred just holding his long length microphone and cheering each lap rather than joining Mark and Ken in all their gear. After the interviews, the locals realised why two firefighters were running around Upton when there was no fire in sight. They were very generous in handing over donations, beeping car horns and waving in encouragement.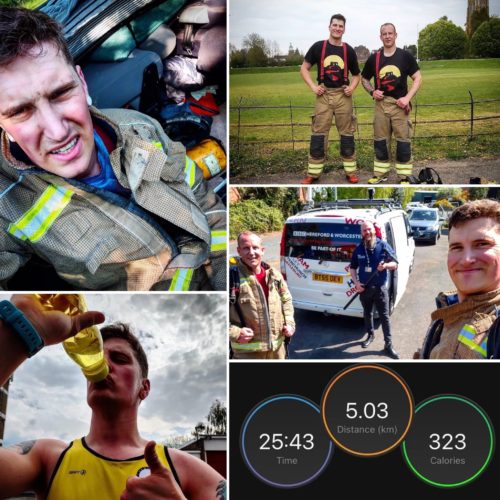 There were a few casualties on the way. Mark's trainers fell to bits, some blisters, and many twinges and tweaking muscles required plasters, hot tub assistance and massages. 
Despite all of this, the motivation and support they received from friends, colleagues, family, passing dog walkers and even total strangers was wonderful. One dog walker, by way of an apology, gave a donation after his dog chased them round the rugby pitch. 
Mark on Day 20
"SURPRISE SURPRISE…5k again. A bit blistery and thinking I overdid it yesterday so taking it mildly easy today. Still managed a 33min 5k. I'm very happy my grasshopper legs are still doing the business"
Ken on Day 24
"Before I started this challenge I wasn't a runner and I didn't do mornings. Lost weight and feel great! " 
The last run, day 30, saw them cross the line at their fire station to cheers from family, friends and colleagues. They ran the very last 1km "under air" which means that their breathing apparatus was over their faces and active. How to make things even more difficult.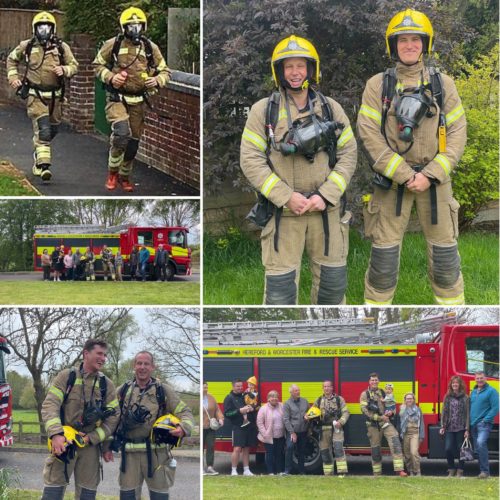 Donations have continued to come in during May and the final total for the Firefighter Challenge is £2,000. Fantastic!
Over the course of the challenge Ken reports he has lost a stone in weight and Mark has lost 6kg (1 stone is approx 6kg). They have both said will continue running but wearing shorts and a t-shirt from now on. 
Ken and Mark are two special guys who The Uphill Trust and everyone at Uphill Junior School are very proud to know. They are going to make the lives of our school kids so much safer while they learn. Thank you from all of us for your huge challenge completed in such style.  
All funds raised will go directly to Uphill Junior School to supply the fire safety equipment and training. Any surplus will be used to help build a new school kitchen. We need to replace the current building which is a wooden shed and an open fire — a big potential fire risk. 
UPDATE May 2021
Job done! Fire extinguishers are now installed in the school and a team of staff and senior pupils have been trained in their use.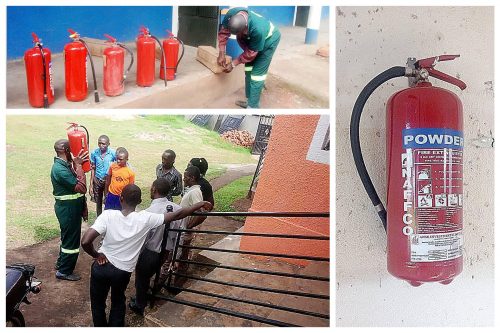 Tags: charity challenge, fire safety, firefighter challenge, fundraising event, shared purpose challenge, The Uphill Trust, uganda, Uphill Junior School