Looking for something to do to keep myself busy during lockdown, I started sorting out my fabric store, and my thoughts drifted to "What can I make with this stash of fabric?"  So it was convenient that, almost at the same time, the government announced that wearing non-medical fabric face masks was advisable to help protect against the spread of COVID 19.
Having worn a medical face masks through my work as a dentist, I had some in the house, so it was easy enough to make a pattern. After a quick trawl through a few You Tube videos for handy tips, and using a willing daughter for a model, I made a number of fabric masks for the family.
By the end of the weekend I was feeling pretty chuffed to have not only a selection of masks for the family but also a few spare ones.
To get rid of the spares, that Sunday evening, I though I would put a post on Facebook offering a mask in exchange for a donation to The Uphill Trust.
Well… that one post opened the flood gates. 
My craft room became a cross between a production line and a sweat shop.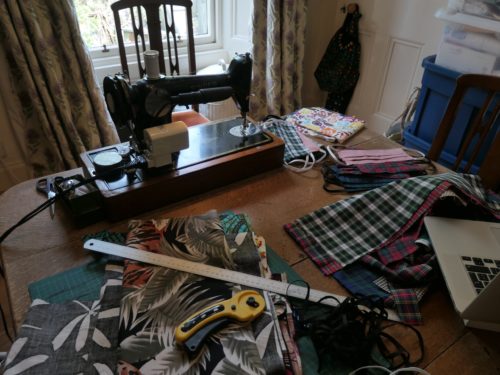 Four weeks later and I have now made 311 fabric face masks. I have used what seems like miles of elastic, (initially quite difficult to get hold of), and a couple of huge spools of thread.
All this work included the opportunity to have a trawl through online fabric shops. It was no hardship to buy a few more fat quarters* of pretty cottons and some lovely African fabrics. To add to the haul, a super donation of fabric came from my friend Jenny in Buckie.
* Fat quarter is a technical term for a piece of cloth, not the description of a seamstress's bum!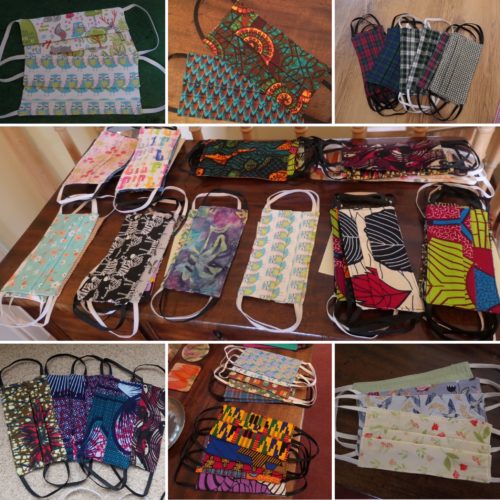 My masks have now gone to all corners of the UK, and as far as USA. I got a wave of repeat orders from down south when the English authorities said it was compulsory to wear a mask on public transport.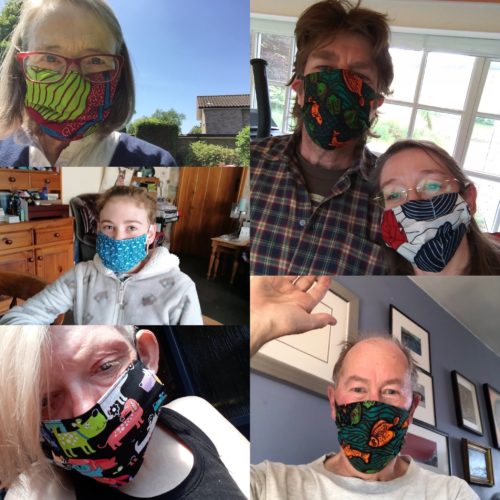 As more masks are now available from online shops and from other crafters, I think my market will now dry up but not before over £1800 has been donated to The Uphill Trust.
I am now able to reopen my dental practice after 12 weeks of lockdown, This means it's time for me to start wearing a full PPE safety mask every time I see a patient. I have had my fitting for the special masks and they are a challenge to wear. I think I would much prefer to be wearing one of my pretty fabric ones!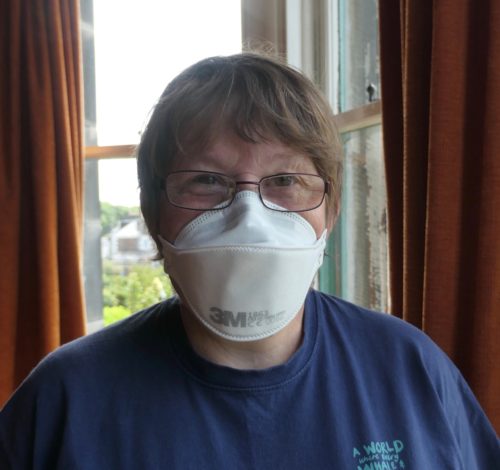 UPDATE:  DECEMBER 2020: The mask orders just kept on coming and by the end of 2020 Liddy has  raised £5,714! This money is being used to fund the Uphill Homeschooling Programme, and she is still sewing…

Tags: COVID 19, Fabric Face Covering, Face Masks, lockdown, The Uphill Trust, Uphill Junior School