In response to the COVID 19 pandemic, Uphill Junior School, along with all the other educational establishments in Uganda, closed its doors on 20 March 2020. At the start of May, the Uphill teachers on lockdown in Iruhuura met school director Elius and offered to begin a lockdown schooling program for the older primary children stuck at home. At that time, the Ugandan Ministry for Education was beginning to offer educational programs on radio, television and via the internet. However few of the Uphill families have a radio, let alone a TV or computer. A different plan was needed!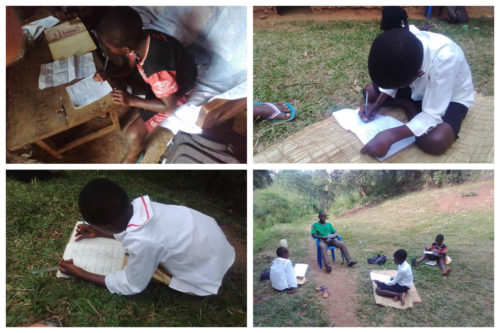 For the Uphill lockdown schooling program, the teachers write summary notes for and questions on each of the topics they teach. Even using carbon paper to make multiple copies of their notes, that's LOT of writing to be done!  All the teachers, including those who normally teach in the kindergarten, are helping with the paperwork and with the home schooling visits.
The finished topic notes are delivered to the pupils' homes by the bursar on the school boda boda*.  Three days later the teachers visit the pupils at home to answer questions and provide further explanations. The system works well for all the school topics…except Mathematics! Maths is now being taught everyday to small pupil groups throughout the community.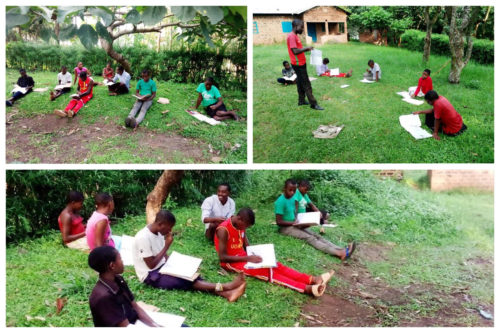 The Uphill system of home schooling has been running for a month now. Because it is working so well it is being expanded to include all the children in P3-7. Three other local schools have now picked up the idea, which is great news for primary children in this very rural area.
With the school closed, there is no income from fees, and even if fees were charged the majority of families couldn't pay anyway because they have no income.  The Ugandans are still largely in lockdown and can't work or get to the markets to sell their produce. So, in addition to its regular payments of staff salaries, The Uphill Trust has given the school extra money for the lockdown schooling project and to cover the additional expenses that the school would normally pay from the fees.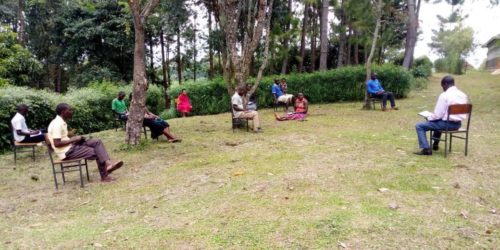 The home schooling evaluation meeting, demonstrating good social distancing!
We are very proud of the teamwork and the commitment to the children's education that is being shown by all the Uphill staff. Together we will get through this challenging time!
*In case you've missed this, a boda boda is a small motorcycle.  Two years ago, we were delighted to be able to provide Uphill Junior School with it's very own school transport.

Tags: COVID 19, home schooling, lessons in lockdown, The Uphill TrustD 19, Uphill Junior School