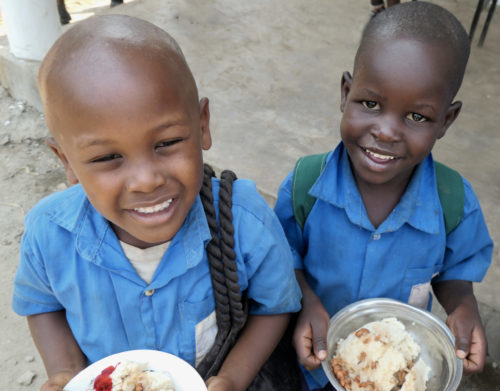 COVID 19 Food Crisis
Uphill Junior School has been closed due to the COVID 19 pandemic since 20 March 2020 and, as in the UK, the Ugandan lockdown has been extended  – with a strict travel restrictions and a night-time curfew in place. This is causing great hardship across Uganda. Even those who can are no longer earning and have little money to spend, and food prices are soaring. There has been some Government food aid within Kampala, but nothing is reaching the rural communities. Many families in our Uphill community are struggling to cope. We received this message from our school director Elius on 19 April:
"Ladies and gentlemen, our friends and well wishers! It has come to our attention that many families of our Uphill Junior School kids are having hard time finding food during this lockdown where their parents are not working anymore! The issue of food has hit many homes even those without kids at our school! Together with Iruhuura Church of Uganda we are sourcing food to help each family get 50 kgs of maize flour and 20 kgs of beans (£24 per family; 4-6 weeks of food). Please, if you could support this cause, you would save the vulnerable children and their parents and grandparents. If you are interested please let me know then I can send you school accounts details for your donations. Reverend Akoraebirungi Herbert and our team on the ground would be delighted for any small donations. God bless you!"
We have already received a number of generous donations and will send money to Uganda early next week (27 April 2020) to help ease this difficult situation. Would you like to help too?
A little of what we have goes a long way in rural Uganda.
Thank you.
** UPDATE – FUNDS ON THEIR WAY TO UGANDA!** 
We have been overwhelmed by the generosity of our supporters on hearing the news of the food crisis in the Uphill community in Uganda. The money raised from the sale of plants (see below) and the Uphill 2.6 Challenge, along with other donations received via Facebook Donate, Total Giving and paid directly into the Trust's bank account, has now been transferred to the Uphill Junior School bank account to buy maize and beans for the families that need it the most. Funds have also been included to buy 3 bars of soap for each of the families in need. Photographs of the food relief distribution day can be seen here.
Trust News
We are doing what we can to support the staff at the school. As in the UK, we will be paying them 80% of their regular salaries whilst the school is closed. The director is hoping that the school will reopen at the end of May, with only one month of teaching being lost. We shall have to wait and see whether that happens!
School News
Uphill Junior School might be closed, but it is planting season in Uganda and Elius, helped by two long standing staff members, have been tending the school garden.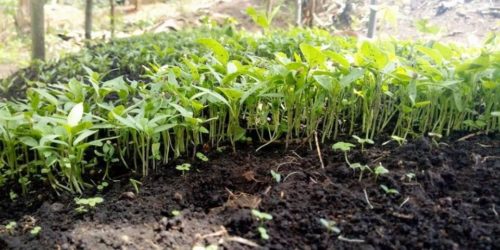 The seedlings that were planted last month have sprung up in the warm, wet weather and are now being planted out.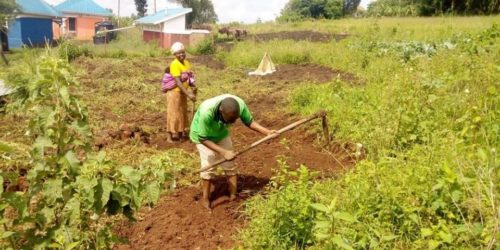 Judith and Patrice gladly picked up their Ugandan hoes to help get the ground prepared for planting-out, earning some money to buy food for themselves and their baby son in the process.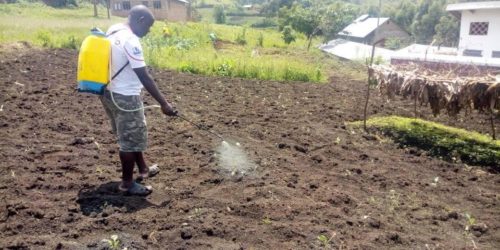 After planting comes spraying. The warm, wet conditions in the Ugandan rainy season are perfect for fungal growth and insect infestations, so without spraying there would be no crops to harvest!
With luck, the cabbages, aubergines and onions will be almost ready by the time the children come back to school…
Fundraising News
Things have been quiet during the COVID 19 lockdown in Scotland, so we have turned out hand to more home-based fundraising ideas. Last month it was Liddy's knitted baby dolls, this month, plants!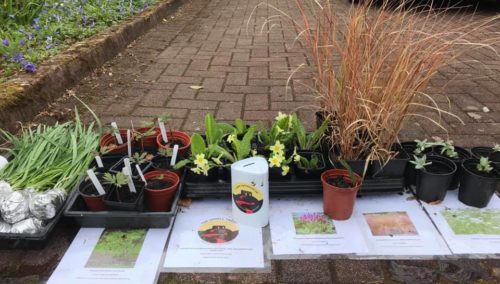 Belinda's plant stall went out on the bottom of the drive on Easter weekend and has raised £124.57 to date. The snowdrops 'in-the-green' and primroses were particularly popular – after a few days more had to be potted up!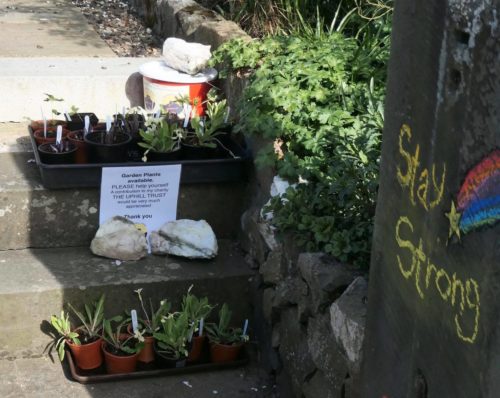 Liddy joined in the plant-sharing love and her wee stall has raised £63.55 so far. We are doing what we can to keep the money coming in to Uphill.

Tags: COVID 19, Food Crisis, The Uphill Trust, Uphill Junior School