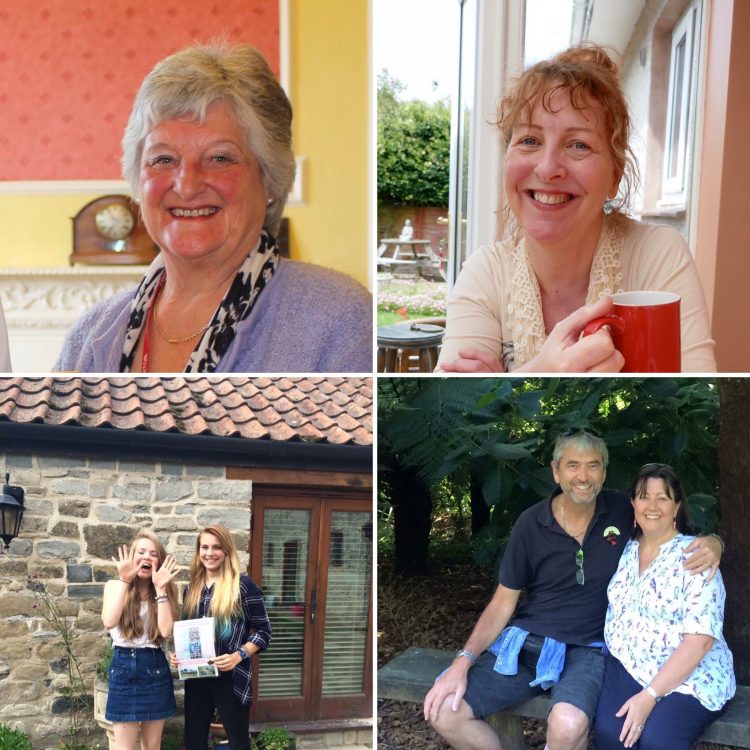 Clockwise from top left: Uphill Ambassadors Di Hartrup – Mags Black – Debbie Herbert – Joely & Bethan
"I feel passionately that EVERYONE has a right to an education".  So says Uphill Ambassador Margaret "Mags" Black, a dental hygienist and the inspiration behind the Gladrags and Handbags Coffee Morning  held in Newport-on-Tay on 17 September 2016.  This event raised over £1,800. Well done Mags!
A few years ago Mags and her husband Harry went to visit their daughter Sara who teaches in Vietnam. The experience of seeing the school and meeting the children there left a lasting impression.  Only 40% of the children went to school and the traumatic lives of some of them were heart-breaking.
When Mags heard about The Uphill Trust's work in Uganda she recognised the similarities with the children in Vietnam and felt she had to get involved. Mags loved the idea that all the money donated to The Uphill Trust goes directly to the school and, as a result, the impact of donations can be seen almost immediately.
The next Uphill Ambassador is Di Hartrup – Trustee Belinda's godmother and regular hostess for the Uphill Chairman when he was working in SE England.  Di has taken a keen interest in the developments at Uphill Junior School since Max's first visit to Iruhuura in 2013 and has been an active supporter of the Trust's work from the beginning.
Through her connections with Crosfields School in Reading, Di facilitated the donation of high quality second hand tracksuits and many other uniform items which the Uphill pupils absolutely love. Crosfields School is now one of the Trust's partner schools and recently raised a substantial sum of money for the new Kindergarten playground.
Di joined the Trustees on a visit to Uganda in March 2016 and continues to actively support and fundraise for the Trust from her home in Caversham. Her Open House event in November 2016 raised almost £1,000 which funded a 10,000 litre water tank for the new school site.
Debbie Herbert is one of our SW England-based Uphill Ambassadors. She has been involved in education for many years, and having heard about the work of The Uphill Trust, was very keen to provide support for our teacher salary programme.
As well as the generous funding that she and her family provide to keep a fully qualified teacher at the school, Debbie has 'sold' Christmas puddings for her workmates in exchange for donations to the trust. She also enthusiastically raids the Uphill Trust paper-bead jewellery box when it appears in her kitchen.
Joely and Bethan are two of our young Uphill Ambassadors. They moved to Somerset from Birmingham in 2016 and threw themselves into the life of their new rural community by joining the volunteer squad for their local Community Coffee Shop. The volunteers work shifts in the coffee shop and their 'wages' are logged and donated to the charity of their choice. These two youngsters have already raised £675 for The Uphill Trust – a fantastic achievement. Their sister, Hannah, is now joining in with Uphill fundraising and is petitioning her school to support our work in Uganda. Go Hannah!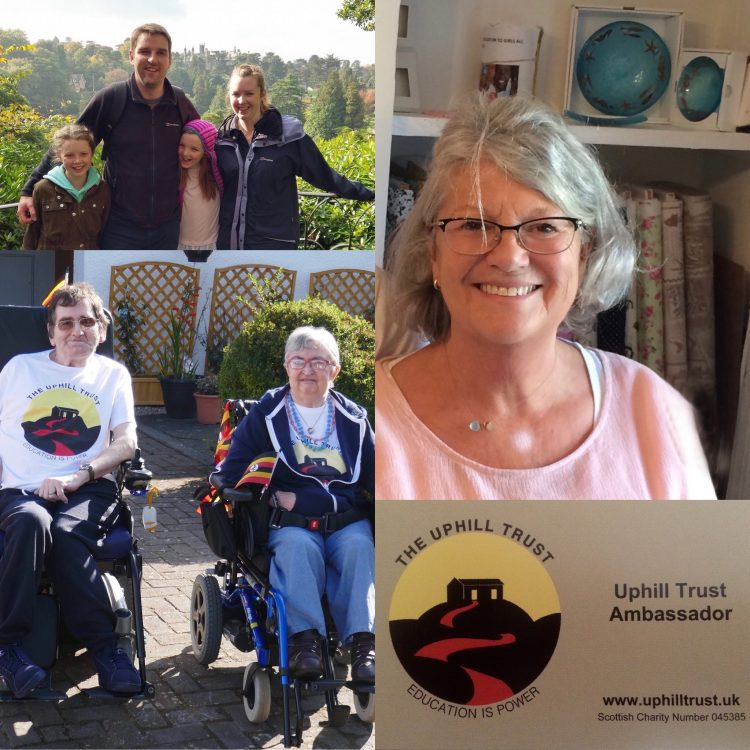 Clockwise from top left: Kirsteen – Jenny Harper – Danny & Liz Furey
Kirsteen lives in Newport-on Tay, is mum to two lovely girls, Emily and Rachel, wife to Mike and a Brownie Leader with 1st Newport Brownies. She is an accountant and describes her job as having to communicate the meaning of numbers to people rather than just add them up. She has been using those great communication skills to help the Uphill Trust since the sponsored Tay Bridge walk by Newport Brownies in 2014
Kirsteen has taken every opportunity to help publicise The Uphill Trust and be part of the fundraising. She has a gift for making people want to help and will go out of her way to find contacts and suggest ideas. Sponsored walks, Brownie and Guide fundraising events, coffee mornings, school fetes, quiz nights, workplace jewellery selling, church meetings and school meetings – all opportunities Kirsteen has taken to work her magic and get people involved.
She says, "We have so much we take for granted, every little helps." We say, "Thank you, Kirsteen!"
When Jenny Harper became an Uphill Ambassador she was running her business, Patch of Blue  Studio, on Cullen high street – one of the villages on the Moray Firth in NE Scotland. She had a selection of Ugandan paper-bead jewellery, made by Trustee Liddy, on display alongside her lovely range of quilting supplies.  In January 2018, Patch of Blue Studio relocated to share trading space at Number 29 in Fochabers – do pop in if you are in the area is you are interested in sewing crafts.
Jenny, along with four other local ladies, represent one of the Scottish chapters of Days for Girls – an international organisation that makes reusable feminine hygiene kits for distribution in countries where sanitary products are not available/are unaffordable. Jenny and her team donated 20 Days for Girls kits in 2016 which allowed the Trustees to hold a girls-only training session at Uphill Junior School, ably assisted by the lady teachers. Twenty more kits have been donated and these went out to Uganda at the end of September 2016. The kits are lodged with Eve, the local health care assistant who looks after the pupils at school who need medical treatment, and she hands them out to girls at the school as las they reach puberty. These kits are a fantastic resource for the girls and young women in rural communities who would otherwise not be able to attend school/college for up to one week each month. More kits were donated in 2018. Thanks Jenny!
Danny and Liz Furey have been staunch supporters of The Uphill Trust since it began.
Danny was born in Dundee in 1950 with cerebral palsy. He began competitive wheelchair racing at the age of 32, in the days before special racing chairs or Paralympic Games. He raced for 10 years, becoming known as one of the finest foot-pushing wheelchair racers of the time, and he was selected for Seoul Olympics in 1988 and the Barcelona Paralympic Games in 1992. One of his racing secrets was to use gun oil, bought in Dundee, to lubricate the spindles of his wheelchair to prevent them from overheating!
Today Danny uses an electric wheelchair and he has now undertaken two sponsored wheelchair runs around Dundee to raise money for the Uphill Trust. He was joined by his wife Liz, also in an electric wheelchair in 2017.  Between them, Danny and Liz have raised almost £2,400 so far. Keep on rolling, Danny and Liz!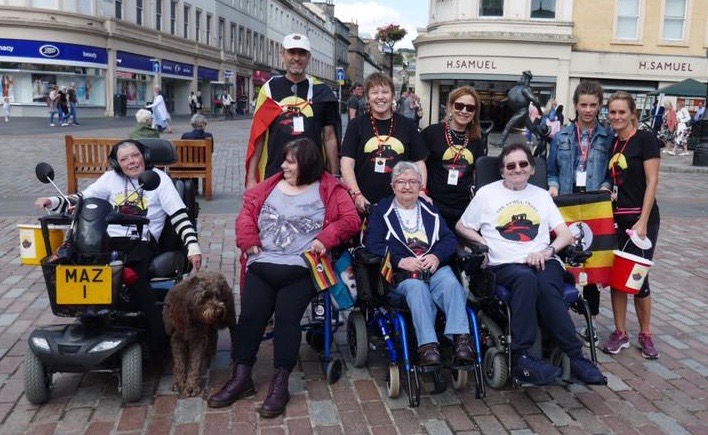 Danny, Liz and and their fundraising supporters in Dundee city centre at the end of the sponsored event in 2017
Joan Harrison and Charlie Don are two of our more recent ambassadors.
Joan is a retired teacher of physical education and agricultural studies from St Helens, Merseyside. While doing research into her family tree two years ago, she discovered Liddy was a distant cousin, made contact with her and formed a great link. When she heard the story of The Uphill Trust she offered her fund-raising expertise to help us. Her fundraising some years previously involved huge success in getting supplies and funds for a Romanian orphanage. She has organised a toothbrush collection from local school, taken part in two sponsored walks and held craft fairs and talks for The Uphill Trust. Her friends, ex colleagues and former pupils have been great supporters. There is no stopping her.
Charlie came out to Uganda with us in 2018, having met Belinda and Max through family connections. A keen student of karate, he packed his gi and black belt and gave karate lessons to the students and staff in the baking sun. Charlie is currently studying Computer Science at the University of St Andrews, having been persuaded to come north from his home in Somerset after a few beers with St Andrews graduates Max, Belinda and Liddy on the veranda of the Ruwenzori Guest House in Fort Portal. He can't wait until he is out in the world of work and can afford to return to Uphill Junior School for more karate lessons.

We are very grateful to all our Uphill Ambassadors for the great work they do. We wouldn't be without you!

Tags: Charity Ambassador, The Uphill Trust, Uphill Ambassador, Uphill Trust Ambassadors