Wherever there are children with high spirits and the joy of rising to the challenge, occasional accidents will happen. In this young boy's case, his attempt to leap across the drainage ditch that channels water away from one of the Uphill classroom blocks didn't go as planned. He fell in, breaking his leg when he landed.
Broken bones are a serious injury and in poor rural settlements in western Uganda, where there is no money for medical care and where hospitals that can deal with such an injury are few and far between, they are often left to heal as best they can.
Uphill Junior School has a School Nurse to help but when the family has no money to pay for proper treatment, the only option may be simple pain relief and strapping the limb to support the broken bones, or a visit to the traditional 'bone healer'.
As soon as we heard about this wee boy's injury, and that to another girl who had a suspected broken ankle, we asked about treatment and immediately sent money to the school for X-rays.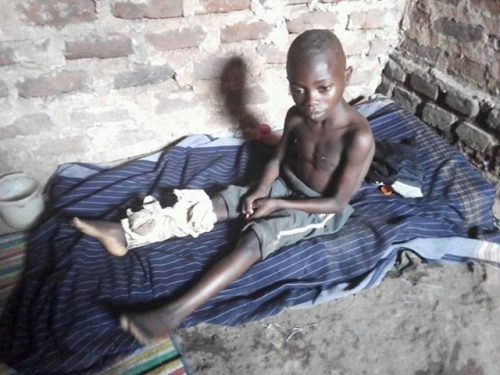 Despite the strapping, he was in a lot of pain and crying constantly
From the extent of the damage revealed by the radiograph it was apparent that the treatment required was completely unaffordable by the family. The Trust were able to help at this point. He was referred to Buhinga Hospital in Fort Portal and came out with a very impressive thigh-to-foot plaster cast on his leg. He is now back home and learning how to get about on crutches until his bones heal.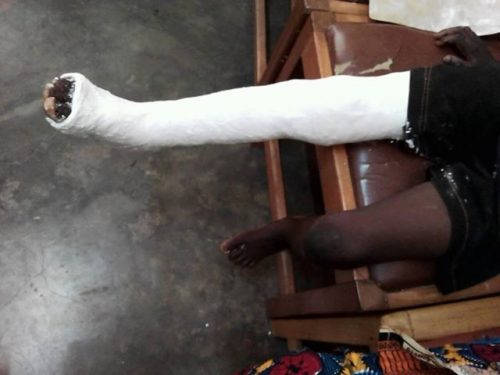 A most impressive plaster cast!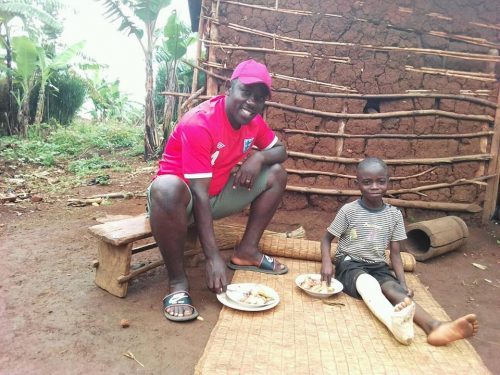 Elius making a home visit to check progress and share a meal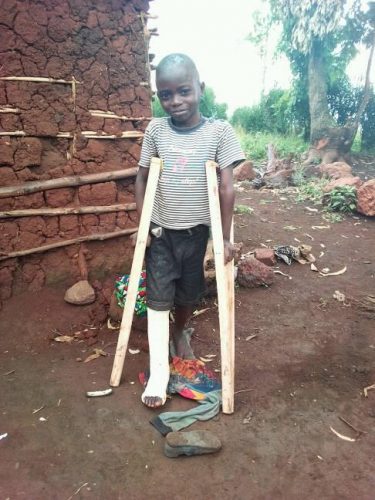 Mobile again and smiling
And the little girt with the suspected broken ankle? Thankfully it was just a bad sprain and she is up and about again too.
The funds used to treat these two children were provided by the Pupil Support Fund, which helps children in particular need with schooling or medical care. The cost for treatment, medication and transport to hospital on this occasion was £107 – a very small price to pay to help these children get back on their feet.
In addition to a badly broken leg, our young patient was also diagnosed with malnutrition. As the doctor who examined him said,
"Malnutrition is a major problem in many parts of Uganda and requires education in proper childhood nutrition."
She has offered to help set up a nutrition training programme at Uphill for the school and wider community in the very near future. The aim of this project is to educate parents about the health benefits of a varied diet using local foods that can be grown easily on their shambas. In many parts of rural Uganda, it is not the lack of food that is the problem, but the restricted diet that stems from lack of knowledge.
If this can provide the spark to help improve the diet and health of our children, it will be a great step forward.
This will be a major project and goes hand-in-hand with our aspiration for all the children at Uphill to have a wholesome meal during the school day.
It is a hugely ambitious plan, but we have to start somewhere.
As always with our plans, funding will need to be found but we hope that, in time, school meals will be the icing on the (Uphill) cake.
NEWS UPDATE, JANUARY 2019:
The little boy with the broken leg is out of his cast and walking normally again. The Director of Uphill Junior School extends a very big thank you to The Uphill Trust and to our supporters for helping with the medical costs.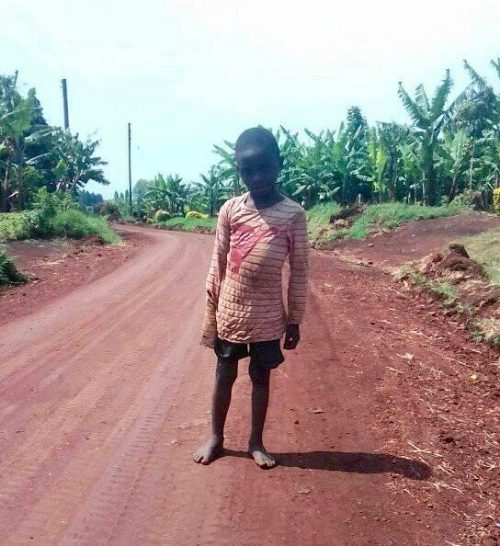 Tags: broken bones, malnourishment, The Uphill Trust, Uphill Junior School