Our early visits to Uphill revealed the poor sanitation and lack of reliable clean water that are common across rural areas of Uganda. With a dentist as one of our trustees, improving health and hygiene arrangements for the school were high on our agenda.

Goal 6 – Clean Water and Sanitation: Ensure availability and sustainable management of water and sanitation for all
Hand washing tanks were installed immediately after our first visit, but collecting water from the community well or other water sources to keep them filled was time consuming for the pupils and staff. With two rainy seasons a year in Uganda, investing in rainwater harvesting was the obvious solution.
The benefits are clear:
Harvesting a natural resource that would otherwise be wasted
Reducing damaging water erosion during heavy rain storms
Removing the need for time intensive water collection
Reducing health issues related to lack of clean water in school
Every new building is equipped with guttering to collect rain into water storage tanks – large buildings have two 10,000L capacity tanks, whereas smaller buildings use 5,000L or 3,000L tanks. The tanks are often linked together via underground pipes to provide a reliable water supply at various standpipes around the school grounds, and to feed the hand wash station.
Rainwater harvesting is indeed an investment – over the past 8 years we have spent around £15,000 installing guttering and water storage tanks at Uphill Junior School – but it has been worth it. The stored water meets the washing, cooking and cleaning needs of 330 pupils and staff, and is also used by the school builders, allowing them to get on with the business of school life without having to despatch teams of water carriers with jerry cans several times a day.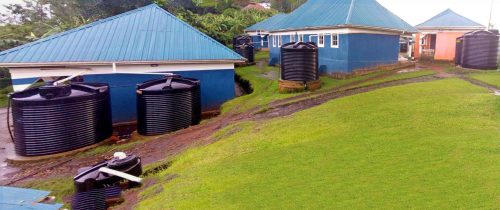 Some of the rainwater storage tanks at Uphill
There was good news on our last trip to Uganda: A gravity fed community water scheme is finally on the way, on a paid for basis. This will be a great improvement for those families that can afford it, and a metered community water standpipe will be installed in the school grounds for those times towards the end of the dry season when the tanks can sometimes run dry. We will be interested to see how reliable the supply is!
For information on the value of rainwater harvesting in Africa, check out this video: https://www.unesco.org/archives/multimedia/document-5271

Tags: Clean water, health & hygiene, rainwater harvesting, The Uphill Trust, Uphill Junior School