Why did we decide to fit eco stoves in the new kitchen at Uphill Junior School?
Deforestation is a major problem across the world – a survey of African forests estimated that the continent lost 10% of its forests between 1990 and 2010. A large proportion of felled wood goes into the production of cooking charcoal and firewood. In Uganda, some of the biggest firewood consumers are school kitchens. One report estimated that a day school with 500 pupils may burn the equivalent of 625 trees in one term – that's around one acre of commercially planted pine or eucalyptus trees for 3 months of learning!
Equally problematic are the health consequences that arise from regularly breathing in the smoke from wood and charcoal cooking fires. Women and children are at particular risk of respiratory illness and disease, as they spend a lot of time close to cooking fires.
https://www.esi-africa.com/energy-efficiency/who-confirms-cooking-with-firewood-is-a-health-threat/
One solution is the eco stove, designed by Ugandan entrepreneur Rose Twine. The stove uses a combination of volcanic rocks and solar power to create an intense heat source that leads to more efficient cooking, without smoke.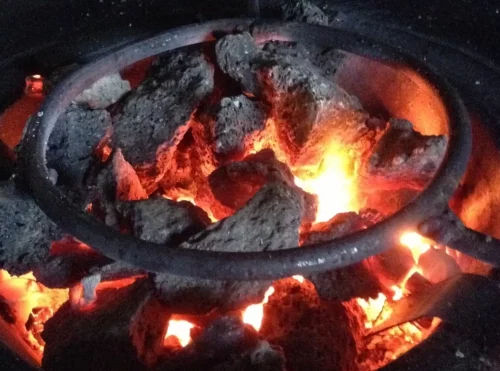 Speaking of her motivation, Twine said:
"I am pained whenever I see people cutting down trees simply for firewood and charcoal. Some of those trees are indigenous and decades of years old. I want to reduce deforestation as well as eliminate the stress of finding firewood among the locals who don't have access to gas or electricity."
 https://africanvibes.com/entrepreneur-spotlight-uganda-eco-stove-is-saving-ugandans-on-2-fronts/
When Uphill school director Elius saw eco stoves in action in Fort Portal he immediately arranged for a demonstration to he held in school. Once we received the 'thumbs up' from the school management team and cooks, along with a detailed costing from the eco stove supplier, we sent money for the purchase and installation of three stoves for the Uphill kitchen, plus training for the kitchen staff.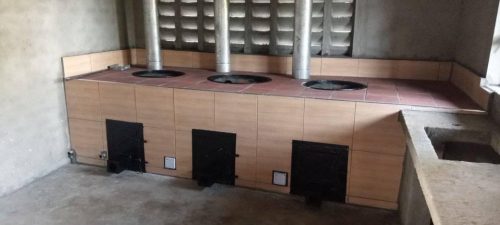 Eco stoves cost significantly more than installing traditional school stoves that use firewood alone (the cost for stove installation and training was £2,000). However the school will reap the benefits over the long term, with reduced fuel supply bills, better air quality and a much cleaner and safer working environment for the kitchen staff.
We are very grateful to Steve Gilman and family and to Pat Rimmer who have each 'sponsored' a stove. Many thanks also to Stuart Combe for his Edinburgh Half Marathon fundraiser which brought in over £1,000 for the Uphill Kitchen Stoves & Equipment appeal.
There are often 'hitches' when moving to new technology – in this case the intense heat produced by the hot volcanic rocks means that a new set of large, heavy duty pans are needed before the cooks can start to use the new stoves!
Stuart's efforts covered the cost of a stove and will also be used to buy the new pans and other equipment needed by the school cooks.
The stoves and solar panels were fitted in May and all that remains now is to install a kitchen sink and tap, tile the work surfaces, add some shelves and cupboards and paint the walls.
We can't wait to see the new kitchen in action!

Tags: deforestation, eco stoves, energy efficient cook stove, school stoves, The Uphill Trust, uganda school kitchen, Uphill Junior School