When you think of school transport you probably think of a white minibus, or one of those yellow American school buses, and Uphill Junior School would LOVE to have such a thing. But, in Uganda, small rural schools have to start with small rural transport – and this usually means a bicycle or, it they are really lucky, a small motorcycle, known locally as a boda-boda. These are very versatile, cheap to run, easy to fix, and can carry a staggering amount of 'stuff'!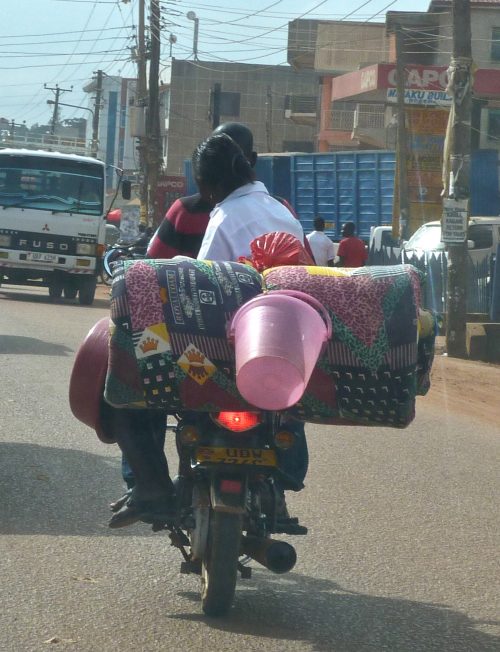 In October 2017 the trust launched the Uphill School Transport appeal, with the aim of providing the school with a boda-boda for the 35km trip into Fort Portal to buy essential supplies.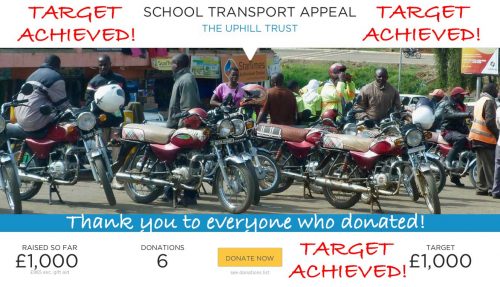 We researched the boda-boda market when we visited Uganda earlier this year and decided that an Indian-manufactured Bajaj Boxer 100cc motorcycle would suit the needs of the school best. We were delighted to find that the School Transport Appeal could fund a brand new Boxer 100 plus helmets and insurance, with enough left over for school bursar Ramuel to be trained and licensed as a qualified boda rider.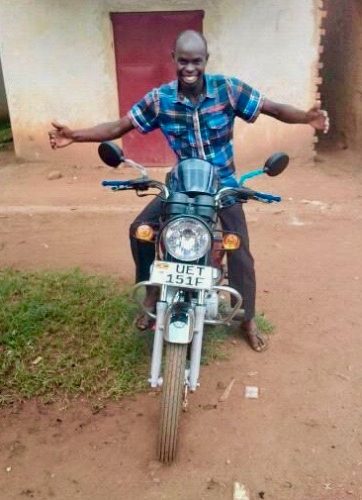 Ramuel is pretty excited about his new role as the boda-riding-bursar
The School Transport Appeal reached it's target just before we headed out to Uganda and our lovely Uphill Artist, Catriona Laird, dashed off this fun cartoon as she imagined the trustees arriving in style in Iruhuura on the new school boda-boda. I am not sure that we three would all fit on a Bajaj Boxer – we may have to give it a try next time we are at the school!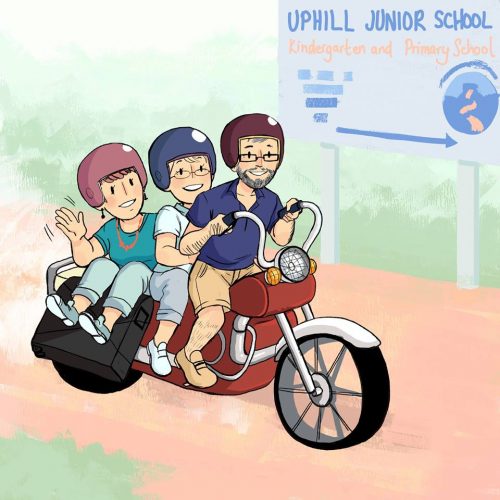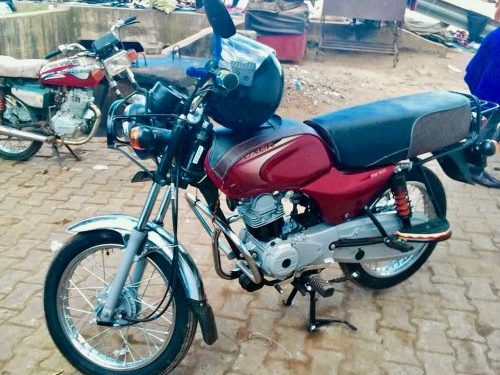 Bajaj Boxer
Thank you to everyone to contributed to this appeal, including Bratboi Motorbikes in Selkirk and the Quick Quacks Motorcycle Club. Special thanks go to lady from Doune who sent us a very large cheque in memory of her uncle who lived and worked in Uganda. You are all brilliant!

Tags: School Transport Appeal, The Uphill Trust, Uphill Junior School