All private schools in Uganda are expected to have at least one health care provider on site to attend to the first aid needs of the children. For the past two years, health care has been available on an intermittent basis in Iruhuura Trading Centre by Bagonza Evester, a qualified nursing assistant, and Nurse Eve, as she is known, has been looking after the Uphill pupils on an ad hoc basis.
In November 2017 we submitted a funding proposal for a dedicated School Nurse for Uphill to St Andrews Clinics for Children (the Scottish charity who funded the Ventilated Pit Latrine for the school at the beginning of 2016) and we were delighted to find out that this has been granted.
Nurse Eve will join Uphill as full time School Nurse at the start of the 2018 academic year and will be responsible for health care for the staff and children, along with health education responsibilities.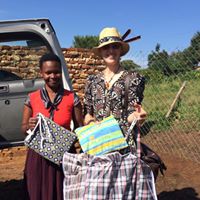 Nurse Eve receiving further supplies of reusable sanitary packs donated by Days for Girls (Moray Coast branch) from Belinda (October 2016)
Follow us on facebook and twitter
Tags: Health Care in School, School Nurse, The Uphill Trust, Uphill Junior School