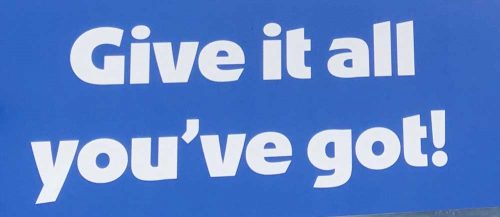 On Sunday 26 May 2019 Liza Lakey (affectionately known as 'Legs' to Uphill chairman, Max) donned her running gear in readiness for her very first marathon, in Edinburgh. In November 2018, in her home country of Sweden, she had decided that running a marathon would be a suitable challenge in the year she turned 60, and Liza is a lady who meets a challenge head on!
This is how her day unfolded: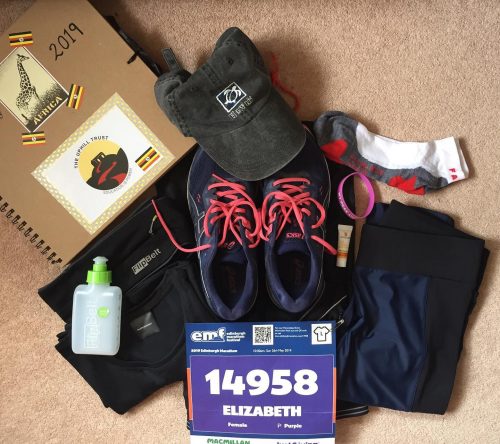 The night before: Kit prepared, carbs loaded, off to bed at a sensible hour…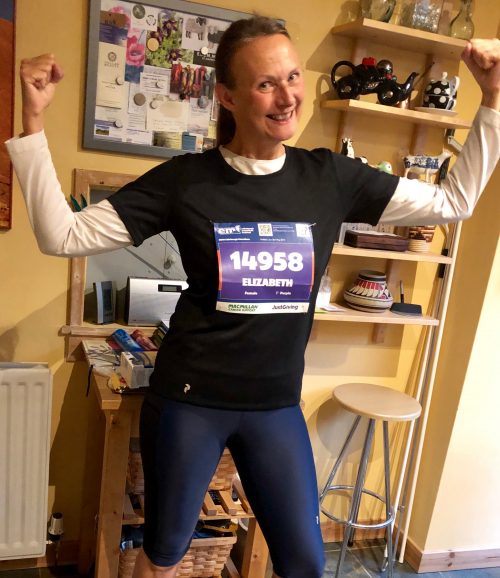 6 am: In the kitchen at Uphill Trust HQ – breakfasted and ready to roll.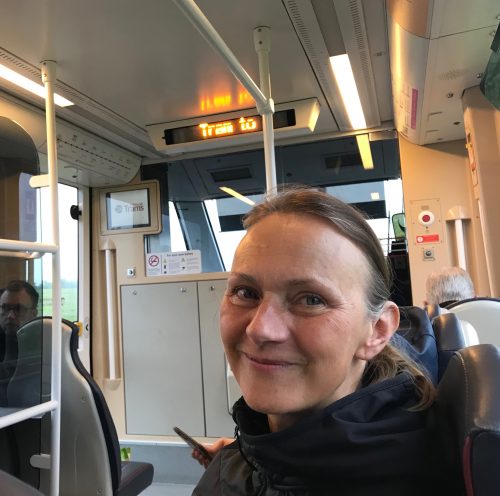 7:15 am: Car ride from Dollar to Edinburgh Airport Park and Ride, then onto the tram into central Edinburgh – getting a bit nervous now!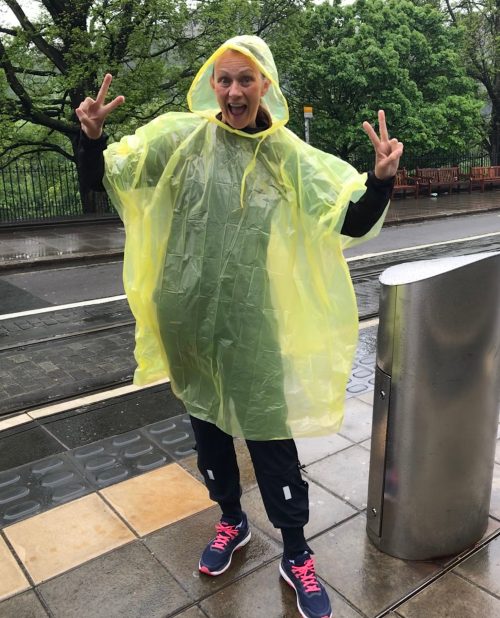 7.45 am: It was raining cats and dogs in Edinburgh (the theme for the rest of the morning), so out came the disposable rain poncho.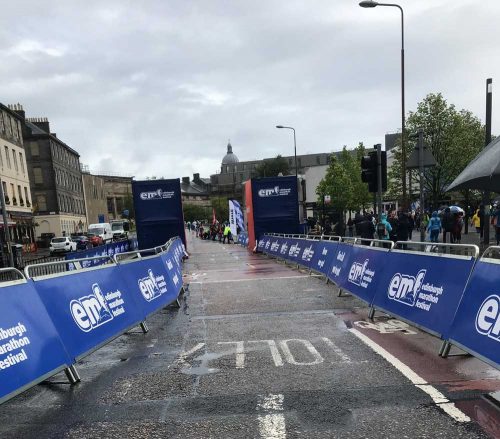 8.15 am: A quick look at the start, then off for coffee (for the support team) and a banana (for the runner). We left Liza in the starting pens around 9.15 am, sheltering from the rain and wind with all the other runners.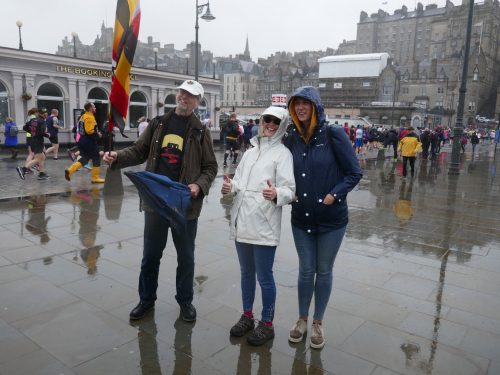 10.15 am: Having collected the last member of our support team at Waverley, we waited for Liza to come past the 1 mile mark. It was wet, wet, wet!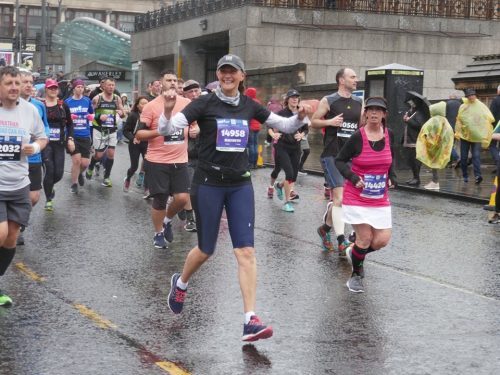 10.30 am: As here she is! Soaking wet but smiling fit to burst! Liza was in the last group to leave the start and was one of over 16,000 runners to take part in the event.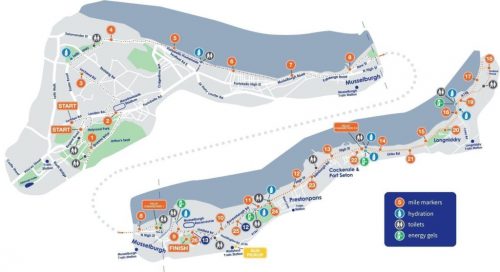 11.30 am: The Edinburgh Marathon is  quite a challenge for spectators,  requiring much hopping on and off trains to get to cheering spots along the route. We missed the first train to Musselburgh, so headed out to Prestonpans  an hour later...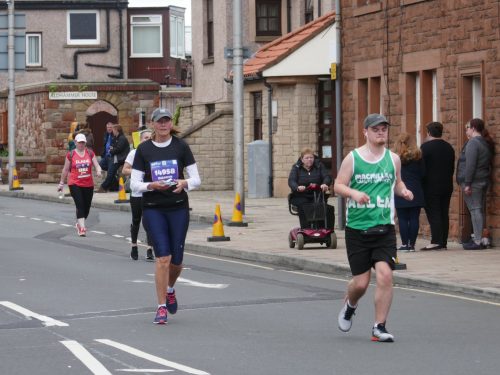 12.30am: Here comes Liza, running strongly with almost 13 miles under her belt. It had stopped raining by then, but the strong wind was more than everyone had bargained for.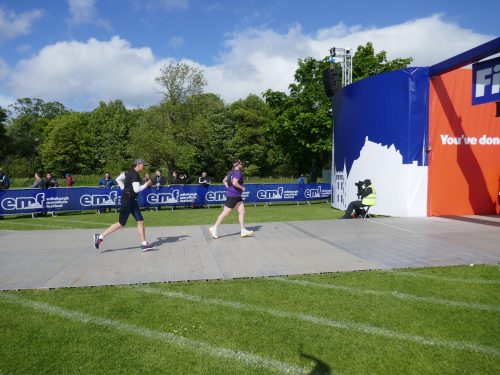 4.15 pm: Not long after the 13 mile mark Liza's phone battery died, and with it the tracking signal we were avidly following, so we had to guesstimate her arrival time at the finish in Wallingford. Having met the runner who came in 2nd, as we arrived at Wallingford station, and heard how difficult he had found running into a strong headwind for the  final 9 miles, we knew that Liza was facing a very tough challenge indeed. So we waited, and waited, and then she appeared! Still running, still smiling (just) and over the line in a fraction under 6 hours. She had been aiming for a run time of between 5.5 and 6 hours, even before Scotland threw it's finest springtime weather into the mix.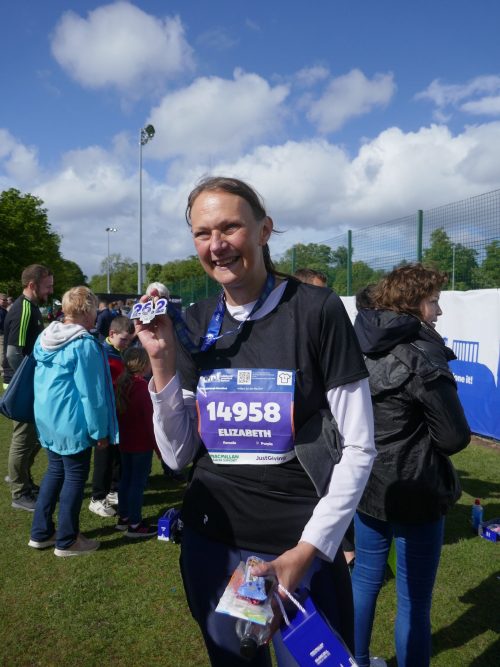 Medal achieved! Liza was very, very happy to be able to stop running at last!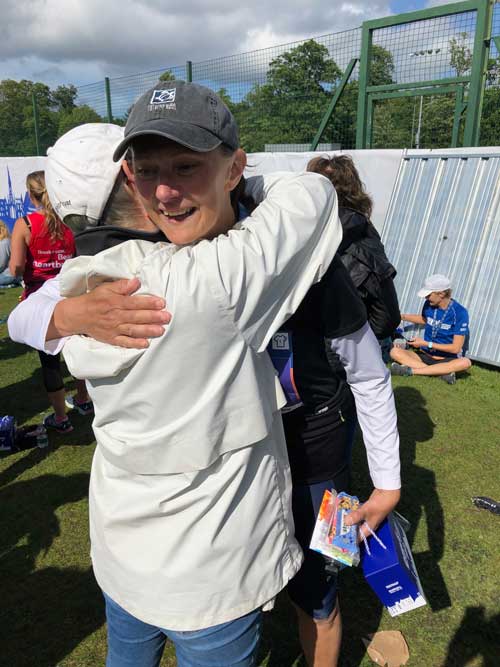 It was hugs all round from the support team, which included Liza's eldest daughter who had travelled from Sweden with her mum, to cheer on.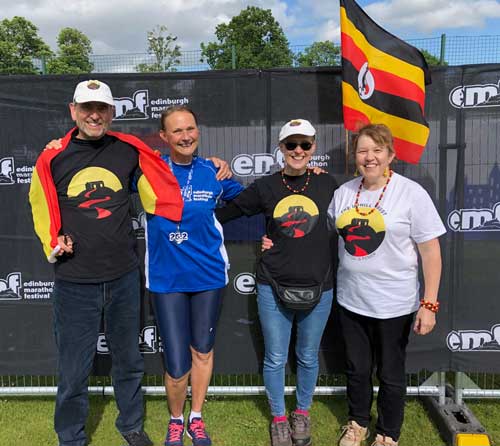 Team photo – very proud and appreciative trustees, and a delighted Liza!
Liza was running to 'Get Uphill out of the mud'. Funds raised by Liza's Edinburgh Marathon Challenge will help to fund a new Kindergarten school for the youngest pupils at Uphill. As you can see in the photo below, they are bursting out of their small temporary classroom – and this is just one of the three kindergarten classes – there are 140 3-5 year olds learning in very cramped conditions at the school. Can YOU help us to get Uphill out of the mud?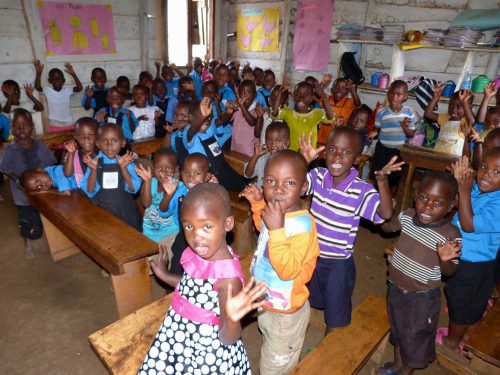 Tags: Edinburgh Marathon 2019, Liza's Edinburgh Marathon Challenge, The Uphill Trust, Uphill Junior School