After the disruptions of the past two years, Scotland's Kiltwalk returned to action fully in 2022. It was really great to be able to sign up, along with family and friends, for the Dundee Kiltwalk on the 21st August.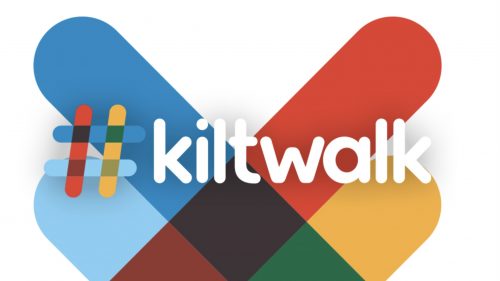 For the last few years Kiltwalk has been a fantastic fundraiser for the Uphill Trust. Provided you can manage to put one foot (or paw) in front of the other for at least a distance of 3 miles, anyone can take part and raise money for their favourite Scottish charity. With wheelchair users also included,  Kiltwalk caters for a whole range of abilities.
The huge bonus of the Kiltwalk is that the organisers, Sir Tom Hunter and the Hunter Foundation, add 50% to whatever total you have raised. This is an incredible help to all the charities who sign up, especially with the economic situation being so difficult world wide.
This year's Team Uphill Dundee were Max, Liddy, Caroline — who took part 4 years ago and felt her legs could cope with another walk — Liddy's brother Richard and her two nephews Billy and Joseph.
Richard and his boys are great walkers and hikers who live in London. They wanted to come to visit the family in Scotland for a few days, dates which happened to coincide with the Dundee Kiltwalk. Obviously bed and breakfast was provided in Newport-on-Tay only on the proviso that they took part!
On the day it was sunny with a stiffish breeze and just a vague hint of rain. We set off in fine style on the Wee Wander from Broughty Ferry Castle, thoroughly enjoying the scenic walk along the side of the River Tay to Monifieth. At the finish, all of us felt we could have been a bit braver and tried the middle distance walk from Tayport. With our post-covid legs now well tested, next year's challenge will be longer…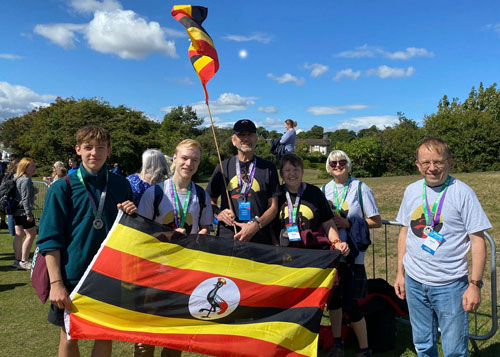 The final total raised for the Dundee Kiltwalk was £4504 which is an outstanding boost to our fundraising for this year. Thank you to Caroline, Richard, Billy and Joseph for joining trustees Max and Liddy on this great day. Thank you to all our very generous supporters whose donations have helped us to reach this fabulous total. 
Kiltwalk (Round 2) took place on Sunday 18th September when Team Uphill Edinburgh took to the streets, swinging their kilts for their 13 and 21 mile walks.
Belinda, Shaun, and Alison – all regular Uphill Kiltwalkers – were joined by Shaima, Bronwen and Thomas  from the BNI networking organisation. It was another great day in tartan – the rain held off and we were able to strip off our fleeces once the blood began pumping!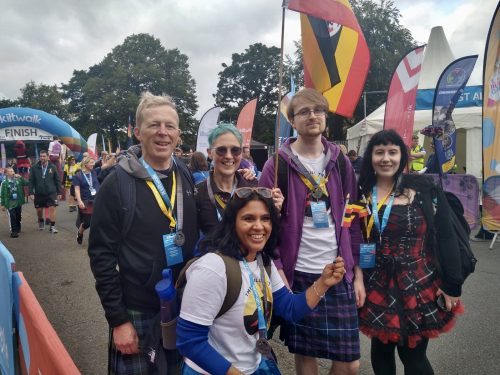 The Big Strollers (13 miles) made it back in around 4 hours, with a blister or two and aching legs, but still smiling.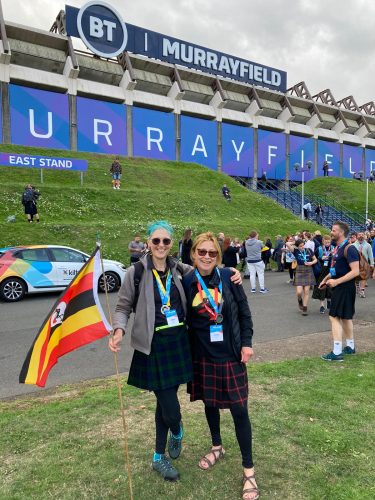 Alison, who was doing her usual Mighty Stride (21 miles) was cheered in after about 7 hours, having changed into sandals half way round to give her broken toe a breather! What a girl!
The final total raised for the Edinburgh Kiltwalk was £5,403. A huge thank you to the walkers and to all the donors who helped to make this fantastic total possible.
The day even generated a piece of digital art entitled 'Journey', which has been donated to The Uphill Trust by the artist. Thank you Bronwen! You can see more of her art on her Instagram page.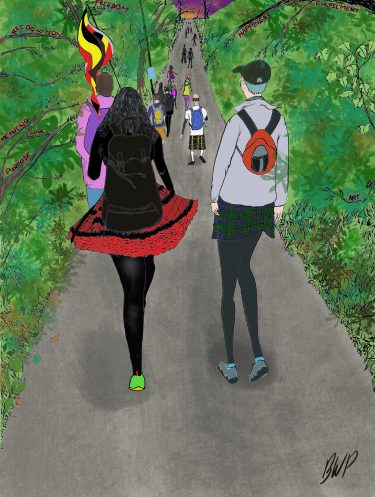 Tags: Dundee Kiltwalk 2022, Edinburgh Kiltwalk 2022, Team Uphill at Kiltwalk