The first in our series of posts about some of the children being supported in school by the Pupil Support Fund: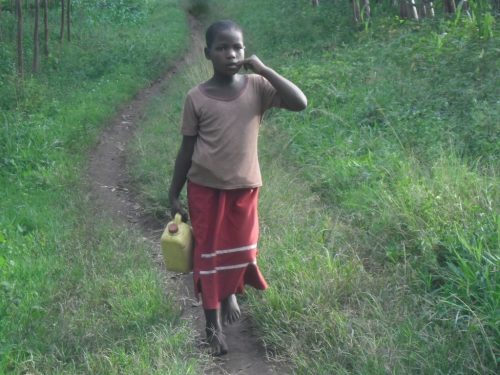 We first met M when she was 10 years old in October 2014.  Her father had died of HIV AIDS and her mother was sick with the same disease.  She and her two siblings were being cared for by her grandmother, who was also very ill. The family could barely put food on the table.
And yet, she wanted to go to school.
Elius asked if we could help.
A single donation of £50 gave M a place at Uphill Junior School, with a school uniform and shoes, a school bag, books, warm clothes for the winter months – even a mattress to sleep on. Thanks to regular donations to the Uphill Pupil Support Fund M now has full support for her everyday needs (soap, toothpaste, medicines, clothing, exercise books, pencils) and for school fees and local accommodation during term time.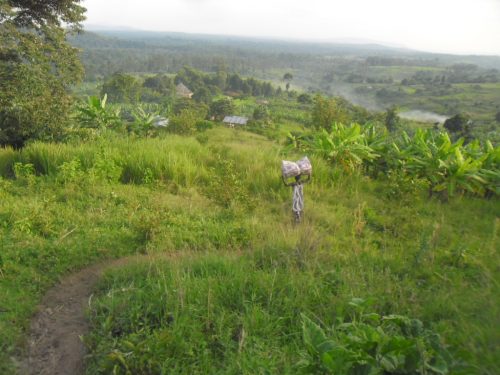 M happily carrying her new mattress home
M joined the Primary 1 class at the end of 2014.  Because she lives some distance from the school, M lodges in Iruhuura from Monday to Friday, and walks the 2.5 kilometres back home for the weekend.
M's story is not an exception. There are a number of other children who overcome obstacles every day to get to Uphill Junior School, many of whom also stay in the village during term time.
With your help, we hope that the next chapter of M's story will see her enjoying the enhanced facilities that will be available as Uphill Junior School relocates, progressively, to a permanent location within Iruhuura village.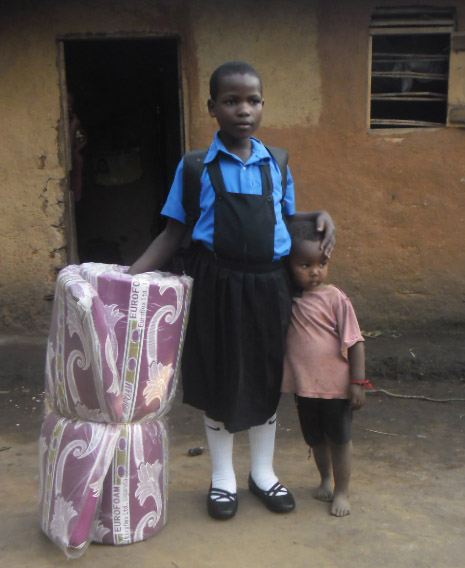 UPDATE (December 2015): M was making good progress at school in Term 1 and 2 but this began to tail off.  Her mother had left the district to stay with her own mother and M was put into the care of her aunt and uncle. No longer able to stay with one of the teachers during the week, M was forced to work on the family shamba (small holding) and her school work suffered badly. She was been promoted to Primary 2 for the next academic year but needs extra coaching to catch up.  We hoped she would be happier back at school and make steady progress.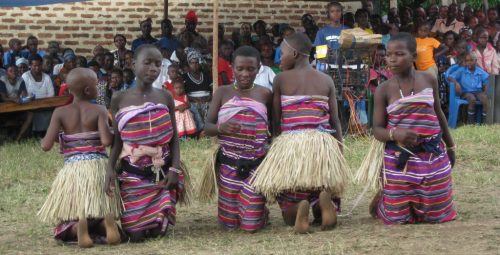 M (far right) loves to sing and dance (March 2016)
UPDATE (October 2016): M's mother lost her battle with HIV AIDS so M and her two siblings were orphaned. She returned to school and was very happy to be back with her friends.
UPDATE (June 2019): M chose to leave Uphill at the end of the last year as she felt she was not making good academic progress. She joined the local Vocational Institute to learn tailoring and machine knitting. She was living in the local community, with her grandmother, still supported by a Scottish well-wisher.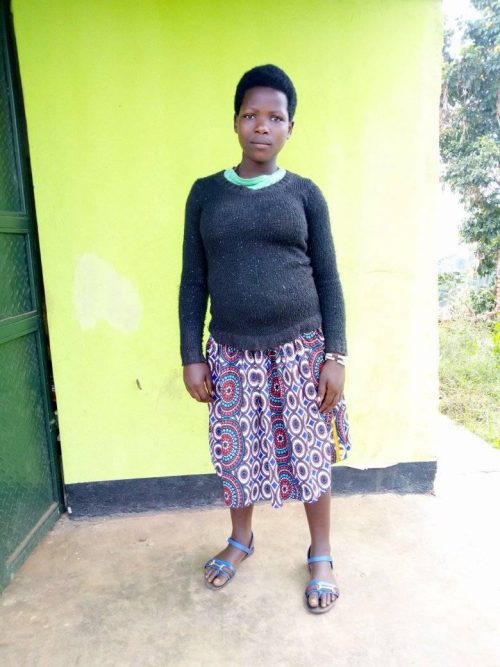 Mi, aged 15, in March 2019
UPDATE (October 2020): M did not return to the Vocational Institute when it reopened after the  COVID lockdown. It is feared that she may have become a child bride. Not every Uphill story has a happy ending.
For a donation of just £15 per month, you too could give a child like M the chance to go to school and to have a proper childhood.

Tags: Gift of education, The Uphill Trust, Uphill Junior School