Round and round, slowly, one tooth at a time… the oral hygiene message given to the kids at Uphill during my Dentaid trip in late October 2019 to make sure that they all have gleaming smiles.
More than 30 children with toothache were seen by the Dentaid team on the day we visited the school to provide dental treatment – a high proportion. 
It has been shown in Scottish schools that supervised daily toothbrushing during the school day has great benefits in reducing decay in children's teeth while improving the knowledge and understanding of regular oral care
With this in mind, and taking an idea from another Ugandan primary school visited at Toowa in the east of the country, I was determined to try to start a daily supervised toothbrushing programme for all the kids at Uphill.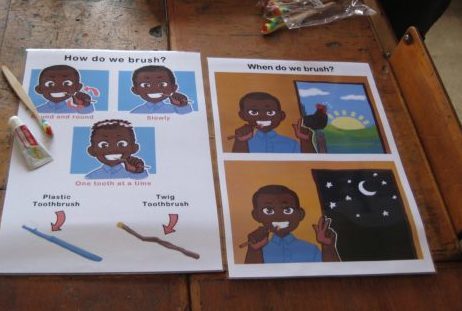 In my suitcases this trip were 400 bamboo toothbrushes (more eco friendly than plastic) and hundreds of little tubes of toothpaste. I also had a demonstration model of big teeth, a giant toothbrush, and colourful oral hygiene posters for the classroom walls made by Catriona Laird. 
I held a workshop with the science teachers, head of kindergarten, the school headteacher and the school nurse. This included a demonstration of good toothbrushing techniques with my giant teeth model.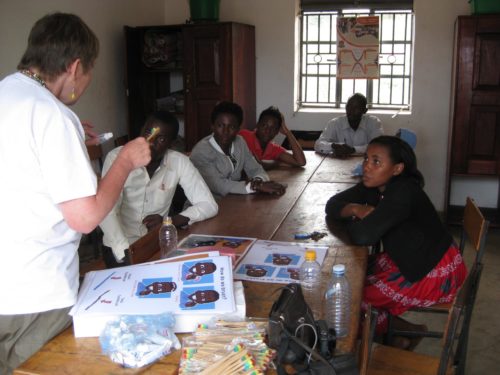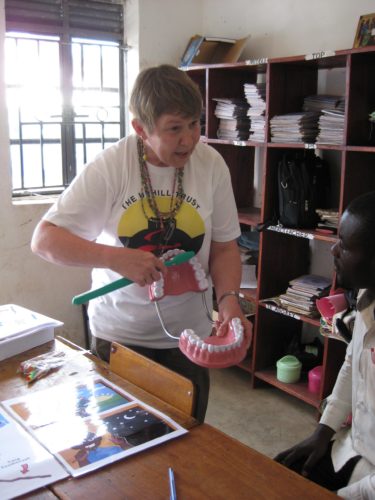 My message also included some advice on sugar consumption from sweets, soda and sugar cane.  We also mentioned that baby teeth need to be looked after just as much as permanent teeth –brushing should start from the very first tooth appearing. This is always a surprise piece of information to any audience I speak to. 
 The toothbrushing programme will mean that each child will have a named toothbrush, stored in a recycled plastic bottle in their classroom. Time will be made available for each class to have a supervised two–minute toothbrushing session each school day.  Plastic mugs and drinking water from the classroom water filters will be available (no fizzy soda!). The oral hygiene posters will be in each classroom as a reminder. 
In the future the toothbrushes will need to be replaced and toothpaste will run out. It is likely we will not be able to afford to keep replacing them but in Uganda they are very good at making their own brushes from eucalyptus twigs. Eucalyptus trees grow very rapidly and are found all over Ugandan. These twig brushes are just as effective for cleaning teeth and extremely eco-friendly. Charcoal, which is also readily available can be a substitute for toothpaste.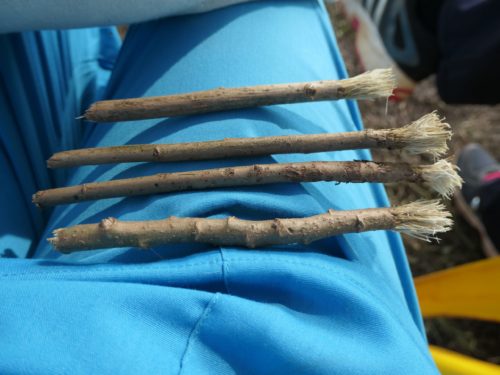 The aim is to establish good toothbrushing habits which will become part of our kids everyday routine, both in school and at home, and on into their adult life.
Let's keep those Uphill gleaming smiles going!
Liddy Laird, Uphill Trustee & Dental Practitioner in Dundee

Tags: Daily Toothbrushing in Schools, Dental Hygiene, Taking Care of Your Teeth, Uphill Junior School