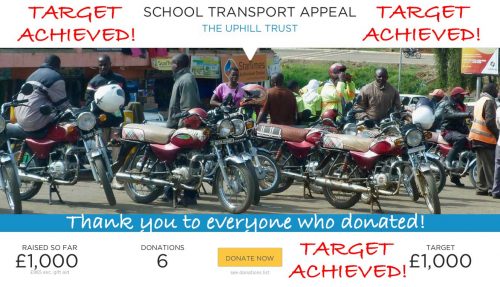 We are delighted to announce that, thanks to recent generous donations from our lovely supporters, we are now in a position to source a second-hand motorcycle for Uphill Junior School!
The school is located in a very rural area of crater lake hills some 35km south of the nearest town, Fort Portal. There is no public transport network and trips into town or to the nearest community medical centre require a motorcycle taxi, known locally as a boda-boda. Costs soon mount up and a school boda-boda for staff to use on school business has been on the school wish list for the past two years.
The Uphill Trust plan to buy a small, second-hand, trails motorbike capable of negotiating the rough dirt tracks that link Iruhuura to the main road to Fort Portal, along with protective clothing for the rider and passenger/s.
The school boda-boda will allow staff to travel into town to get to the bank, buy supplies and collect deliveries of equipment or other materials needed by the school. It will also be used to transport staff and children to medical and other essential appointments.
We hope to be able to source a suitable machine in the near future – watch this space!
Follow us on facebook, twitter and instagram